Nigel Farage's Epic Response To Listener Who Wants To Stop Brexit
9 October 2017, 20:05
One listener told Nigel Farage Brexit was "based on total lies" and the whole thing should be called off. So he swiftly offered up a brilliant response.
Ahead of the latest round of Brexit talks, Theresa May told the Commons on Monday that "real and tangible progress" had been made with the EU since her high-profile Florence speech.
She told MPs: "The ball is in their court, but I'm optimistic it will receive a positive response, because what we are seeking is not just the best possible deal for us, but I believe that will also be the best possible deal for our friends, too."
But, one listener certainly didn't see such a bright future ahead.
Going by the name "Thick As Brexit" on social media, the listener told Nigel: "Stop the whole thing, it was clearly based on total lies and we are worse off already as a result of Brexit".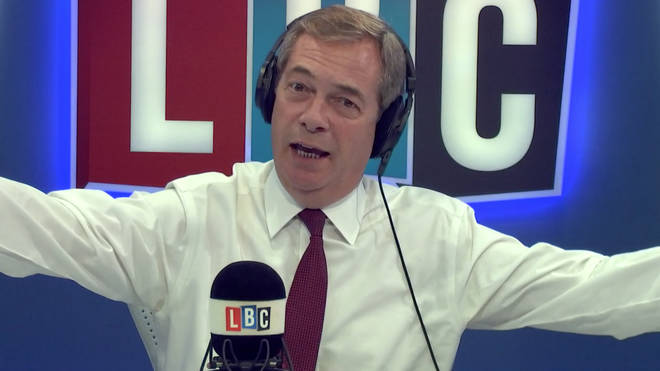 The outspoken LBC presenter was quick to dismantle the claim, as he retorted: "He thinks the greatest exercise of democracy in our nation's history should be thrown in the bin as it simple doesn't matter - because all of us who voted Brexit, all 17,410,723 of us are really too stupid to make decisions like that.
"Well I'll tell you what 'Thick As Brexit' whoever you are, we haven't changed our mind and a lot of your crew now believe what we believe in that Brexit is a good thing not a bad thing and it's time the government got on with it."
…And a gentle reminder that on Tuesday from 5pm Theresa May takes your calls exclusively on LBC.
Find out more about how you can put your question directly to the PM here.