"Project Fear" Is Back And Nigel Farage Is Absolutely Seething
10 July 2017, 20:04
Tonight the Evening Standard printed a headline which read "Cancer patients in Brexit scare" and it's left Nigel Farage absolutely furious.
Just when you thought "Project Fear" had disappeared the Brexit scare stories have once again started to re-appear.
The latest claims cancer patients face delays to their treatment as a "direct result" of Britain's vote to leave the EU.
Nigel described the story as "over the top rubbish" as he issued a very stern message to the paper's editor and former chancellor, George Osborne.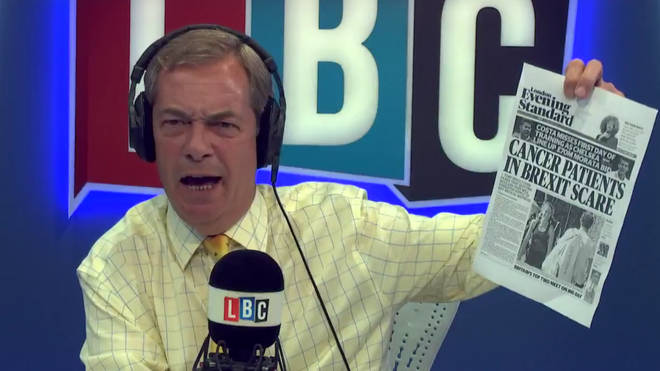 The outraged LBC presenter fumed: "I've never liked George Osborne. I didn't like him as chancellor, I don't like him as the editor of the London Evening Standard.
"But frankly this headline today is something else… What Osborne is telling us is that if we leave the European Union we won't be able to get some of the isotopes we need to treat cancer patients in this country.
"It is part of this thinking that the world begins and ends with Europe - do you know what George? They manufacture this stuff all over the world."
As he became even more irate, Nigel finished: "If our next-door neighbours wouldn't sell us lifesaving drugs because we've left their political union, then we should have left 30 years ago."
Watch the incredible video at the top of this page.