"Stop Talking The Country Down" - Nigel Farage's Strong Message To Justin Welby
25 February 2018, 15:53 | Updated: 25 February 2018, 15:56
Nigel Farage has a strong message for Justin Welby to "stop talking the country down"
Nigel Farage has described comments by the Archbishop of Canterbury Justin Welby as "deeply misguide".
Writing in the Mail on Sunday the Justin Welby said austerity is "crushing the weak" and Brexit has divided the country.
Speaking on his LBC Sunday show Nigel Farage had a message for him.
"Stop talking the country down, because that's what you're doing," he said.
Nigel said: "Really Archbishop? Do you think in Victorian London and Manchester that there were not huge wealth disparities?
"Are you actually saying that the gap between living conditions at the top and bottom has got worse since Brexit?
"I don't think so.
"A deeply misguided comment."
He went on to say that "the tone of the piece where he talks about division - and yet through the words he uses further increases division."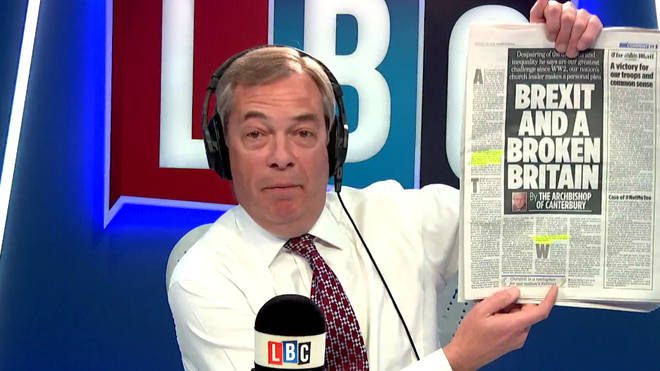 "This is a very negative article from the Archbishop yet again."
Nigel Farage has just flown back to the UK from the US where he has been catching up with President Trump.
He added: "What a contrast this is to the people now running the administration in American where they constantly talk up their country, their people and prospects."