The EU Is More Dangerous Than Russia, Says Farage
11 January 2017, 20:17 | Updated: 11 January 2017, 20:28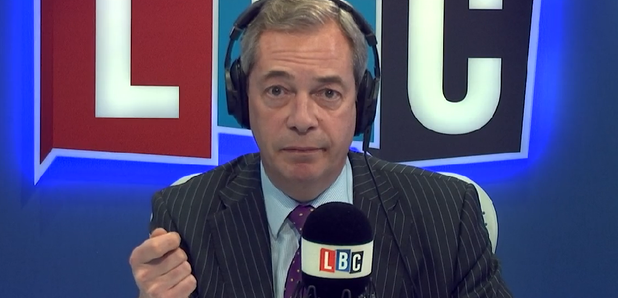 Nigel Farage insists the European Union poses a bigger danger to Britain than Russia, as he backed Donald Trump to halt the new Cold War.
The President-Elect said he would speak to Vladimir Putin after admitting that they were behind the hacking of Democratic files in the election campaign.
Speaking on his LBC show, Nigel said he is not a fan of Putin, but believes Mr Trump can solve the current problems.
He said: "I think this constant eastwards expansion of the European Union, coupled to the fact they are now building a European Union Army worries me.
"We're back in a Cold War. We're back in shadow boxing. Whether Putin is a threat or not, let's please stop poking the Russian bear with a stick. It simply doesn't make sense.
"And there's only one man that's going to break this deadlock and that man is Donald J. Trump.
"You can like him, you can hate him, but one thing for certain, he's going to do things differently. He will give this a go.
"There will be a meeting in Reykjavik or somewhere at some point during this year. I wish him luck. I hope we do find some common ground. I hope we do manage to coordinate better in the fight against ISIS.
"And what I'm certain of is we will have lost absolutely nothing in doing this. Our leaders in this country in the EU and the rest of the West haven't got the vision."
Categories: Nigel Farage | Donald Trump