Nigel Farage: The One Reason Why NHS Funding Must Increase
17 June 2018, 12:35 | Updated: 17 June 2018, 12:36
Nigel Farage suggests Theresa May is supporting the Foreign Secretary as her successor after "legitimising" his 'Brexit bus pledge' with a boost of funding for the NHS.
The UK will be able to spend "around £600 million a week" more on the NHS by 2024 in what ministers are calling a "70th birthday present".
The Prime Minister announced the boost in funding, which will see the £114bn-a-year budget rise by an average of over 3% a year for the next five years.
The spending plan means the overall budget will be £20bn more than it is now by 2023 once inflation is taken into consideration.
But Nigel Farage says the real reason why the NHS needs to be better funded is because the British population is on the rise.
"Nobody will talk about it," he said on his LBC show.
"Spending on the National Health Service has to go up every single year significantly, not just because of administrative waste, not just of because of health tourism.
"The British population is rising by half a million people every single year, and 75% of that is because of people coming into this country and those that have come having children."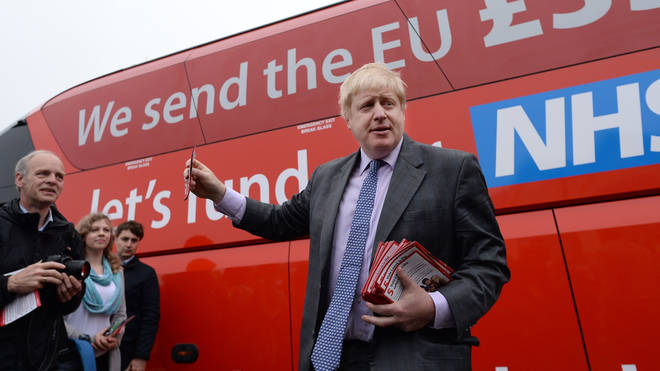 "Is it any wonder we need to increase spending?" he said.
"And of course part of the argument around Brexit was that by leaving we can take back control of our borders and significantly reduce the numbers coming into Britain.
"But there's little prospect of that, and as I say it is the elephant in the room and nobody wants to talk about it because immigration has disappeared completely off the political radar in this country.
"But hey, Boris went round and said they'll be a Brexit dividend: up to £350 million pounds a week could be poured into the NHS and he's been backed up by the Prime Minister this morning.
"Maybe she's supporting him as her successor but he will certainly be enjoying his eggs and bacon this morning thinking 'Wow I've been fully legitimised'."