Uber Driver Tells Nigel Farage The Company Should Be "Shut Down"
7 September 2017, 20:34
An Uber driver called Nigel Farage because he wants the company to be closed down. In the clip above, he explains why.
Uber returned to the spotlight on Thursday as Sadiq Khan told LBC he expects Transport for London to consider sexual assault allegations when it decides if the company's licence will be renewed.
Uber drivers in the capital are accused of sexually assaulting a customer once every 11 days, according to a Freedom of Information request by The Sun.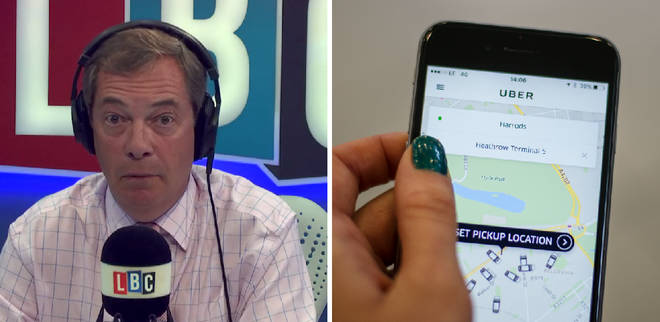 It found the Met Police received 32 allegations of rape or sexual assault involving Uber drivers over the 12 months up to February.
The allegations have been described as "incredibly rare" by Uber and result in drivers being banned.
Atin has been a driver for the firm for nearly two and a half years.
He told Nigel it was "very good" at the beginning, however he says over the last eight months, the work as become "ridiculous".
He claims drivers now need to work up to 80 hours per week in London just to make a living.
The caller now believes Uber has served its purpose.
Atin said: "I think Uber needs to be completely shut down.
"It is not safe, there are people who literally live in their cars, there are people who do 90-100 hours a week because the market is so flooded.
"Open up your Uber app and you're going to see a car in almost every street of London."