Nigel Farage Will Vote Against Theresa May's "Disaster" Deal
25 November 2018, 11:30 | Updated: 25 November 2018, 14:38
Nigel Farage confirms that he will not support Theresa May's withdrawal agreement when it reaches a vote at the European Parliament.
The MEP said that it was "awful" that Theresa May's withdrawal agreement "keeps us trapped perhaps for many, many years to come".
Speaking on his LBC show, Nigel Farage said: "I've decided on balance, no. I'm going to vote against it."
"This deal is an absolute disaster," he said.
"It's a betrayal of everything we voted for in Brexit and if the risk was that the other side could force us to vote again, right now I think that risk is worth it."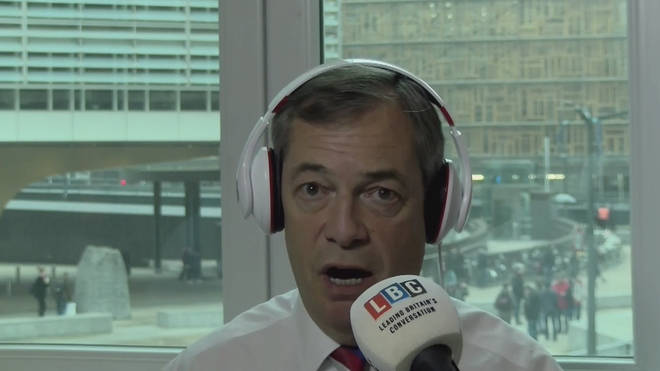 His comments come as the 27 European Union leaders unanimously backed the Prime Minister's Brexit deal.
It was understood that the leaders took just under 40 minutes to endorse the deal, despite negotiations taking nearly two years to complete.
But European Commission president Jean-Claude Junker has warned Britain cannot expect to get a better Brexit deal if MPs reject the agreement in Parliament.
Labour leader Jeremy Corbyn has confirmed his party will oppose the deal in the Commons because it is a "bad deal for the country" that "leaves us with the worst of all worlds."