Elderly Patients Left On Trollies For 12 Hours In A&E Corridor, Doctor Says
2 January 2018, 14:44 | Updated: 2 January 2018, 14:53
Patients arriving at A&E are waiting up to 12 hours to be seen and almost 24 hours before being admitted to a hospital ward, a doctor has told LBC.
Adrian in Birmingham contacted Shelagh Fogarty after finishing his shift on Tuesday.
He described how some frail and elderly patients were having to wait hours and hours on a "hard, uncomfortable trolley" because "there just isn't the people there so see to them".
The A&E doctor was speaking as the NHS prepares to celebrate its 80th birthday in 2018.
The milestone comes amid a challenging time for the health service as departments struggle to cope with demand.
Adrian explained how the most pressure was being felt in A&E.
He said: "When I arrived at eight o'clock this morning there were patients stacked up in every single cubicle, all the way down the corridor.
"Patients were waiting for nearly 24 hours to get admitted into a hospital bed, patients who had been sat there for 12 hours on a trolley without even getting into a cubicle or meeting a doctor.
"Nursing staff are stretched to their absolute limits, not enough doctors around - there's not enough people full stop to do anything in the department effective with these patients."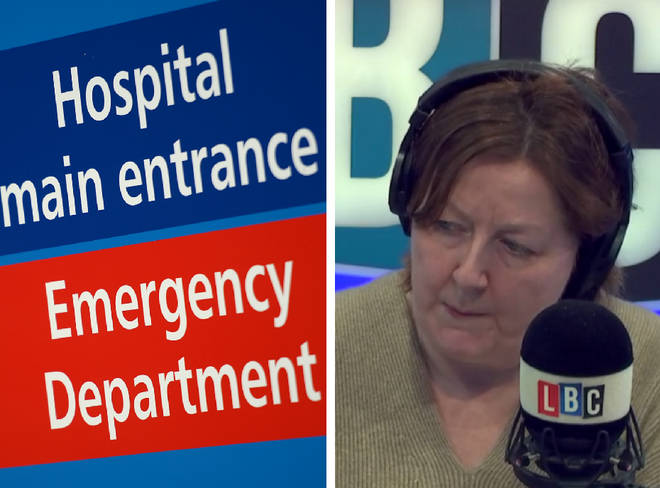 Adrian added: "They've been brought in by an ambulance, put onto a trolley, had a very, very brief initial assessment but they're still waiting for a hospital bed or to get into a proper cubical.
"Elderly, frail, sick people sat on corridors in the emergency department on a hard, uncomfortable trolley just not getting seen to."
Asked what had sparked the rising pressure, the caller continued: "The major problem as far as I can see is a lack of capacity within the system, we haven't prepared and planned for this explosion in the number of people who are elderly and frail."
In order to solve the crisis, Adrian suggested: "Bigger hospitals with more beds in, more wards, with more nurses on them, more space in A&E, more ambulances, more social care facilities, everything."