WATCH: Alex Salmond's Reaction To Those Colourful Letters From Trump
22 December 2016, 18:08 | Updated: 23 December 2016, 12:11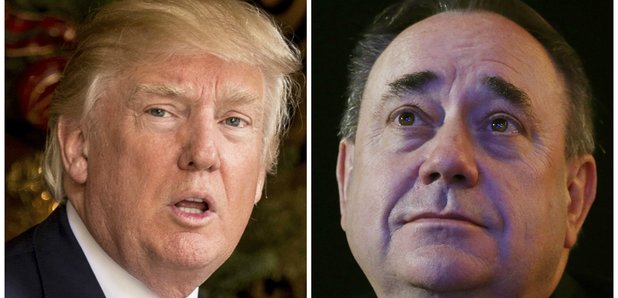 Alex Salmond didn't hold back when chatting to Shelagh Fogarty about the series of letters sent to him by Donald Trump.
Letters sent by Donald Trump to the former Scottish first minister Alex Salmond in 2011 and 2012 have recently surfaced following a Freedom of Information (FOI) request.
The letters were sent to Mr Salmond as part of a campaign to stop an offshore wind project near Mr Trump's Aberdeenshire golf resort.
Mr Trump claimed that if the project went ahead, Mr Salmond would be known as "Mad Alex".
But this didn't faze the former SNP leader. He told Shelagh: "To be insulted by Donald Trump is a red badge of courage, is it not?"
He added that regardless of Trumps policies, it's his character which is his main concern: "If we forget the racist nonsense which he disfigured his campaign [with]...it's nothing to do with policies really, it's about character.
"The problem with these letters and what they show is, if somebody says no to Donald...then his character changes entirely. He goes from [being] all chummy and saying 'you're the best person in the world', to saying 'you're mad' and threatening to do all sorts of things in terms of using his finance against you."
Mr Salmond raised concern about how Trump handles disputes: "The problem is that this is an argument about wind power. Lets say as president, he comes up against an argument in the White House instead of Trump Towers about hard power, and then adopts this attitude when somebody says no to him? That's the difficulty.
"We've all got to hope and pray that the responsibilities and obligations of office will start to bear down some responsibility and that the child will grow up."