Corbynista Slams Right-Wing Press For "Scaring The Poor" Into Voting Tory
21 February 2018, 15:25 | Updated: 21 February 2018, 16:15
An ardent Corbynista has slammed the right-wing press for "manipulating" the poor against Labour and "scaring" them into voting Conservative.
Chloe called Shelagh Fogarty following Jeremy Corbyn's attack on newspapers who published claims he passed information to an agent of the Czech StB intelligence agency during the 80s.
Naming The Sun, The Mail, The Telegraph and The Express, the Labour leader branded the allegations as "lies and smears" and warned "change is coming".
He suggested that such publications were "worried" by the prospect of a Labour government, something Chloe called LBC to agree with.
During a passionate monologue, the pro-Corbyn caller said: "Our country can not survive with another Conservative government.
"The NHS is crippling and it will be gone if another Conservative government got in again.
"The papers are still run by Rupert Murdoch, the poorest places in this country are still being sold newspapers that are making them believe they need a Conservative government."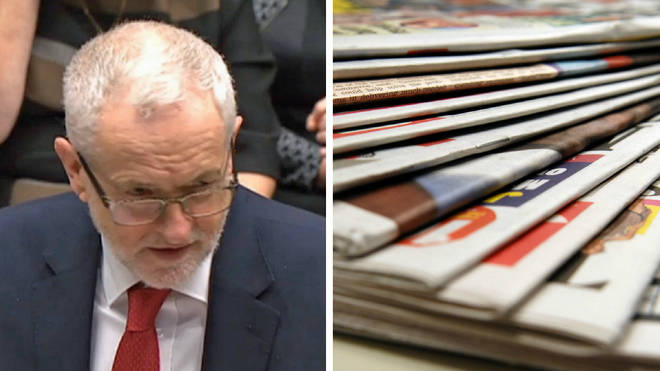 She continued: "[The right-wing press] are shaking in their boots which is why they are coming up with all this stuff about Jeremy Corbyn.
"They know it's so close to happening, because it has to happen for this country to survive.
"The press are making [people] fear him.
"They are scared of it because they've been led to believe they should be scared of it because the newspapers are telling them to be scared of him."
In the last few days The Sun, The Mail, The Telegraph and The Express have gone a little bit James Bond.

We've got news for the billionaire, tax exile press barons: Change is coming. pic.twitter.com/3ehSKfaAgZ

— Jeremy Corbyn (@jeremycorbyn) February 20, 2018
Chloe added: "The press are manipulating, especially the poorest parts of the country, that they need a Conservative government".
Meanwhile The Sun, who first printed the claims, hit back at Mr Corbyn's warning and defended its coverage.
A spokesman said: "Over the past few days, we have revealed substantial, documented evidence from the Czech security archive that a Czech spy met with Jeremy Corbyn at the height of the Cold War.
"Those questions are yet to be answered and we will keep asking them, no matter how inconvenient they might be, nor how many times we are threatened with 'change' - whatever that may mean.
"They are questions that we would put to anybody who aspires to the highest office in the land."