Caller: My Opioid Addiction Almost Killed Me
24 January 2018, 14:53
According to one of the UK's leading drug experts the UK is on the brink of an US-style opioid crisis after new figures highlighted the increasing reliance on the addictive type of medicine.
Research has shown that one out of eleven people are taking dangerous addictive medicines in the UK. Experts have warned that patients need to know more and doctors need to do more to stop the number of patients receiving opioids for illnesses and pains.
David rang into LBC to talk about his personal addiction to opioids. He told Shelagh that after an accident six years ago "almost from day one they prescribed me opioid drugs."
He told Shelagh Fogarty that through out all the different operations he had "no one ever said we need to cut down on your opioids," and six years later he was "completely addicted to the opioids."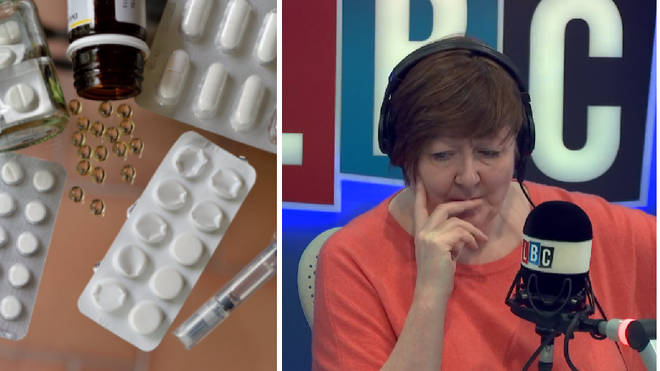 Talking about his daily routine David said that he "couldn't get out of bed" unless he took his medicinal opioids and his life "just became hell."
David was able to get "two to three prescriptions a week from the doctor" and at his worse he would take "14 or 15 ten milligram tablets a day." He reminded Shelagh that a 30mg dose is given to those in hospices "on their way out."
During this time doctors didn't tell him that he had cut down on his opioid intake. David spoke of how his opioid addiction got back he was told: "I have six months to live if I carried on the way I was going."
He went to his doctor and told him that he needed help, so his doctor gave him morphine - another opioid.
Luckily for David, he was able to get help and weaned himself of the opioids.