Female Met officers refused to charge abusive partner, emotional caller reveals
21 March 2023, 15:32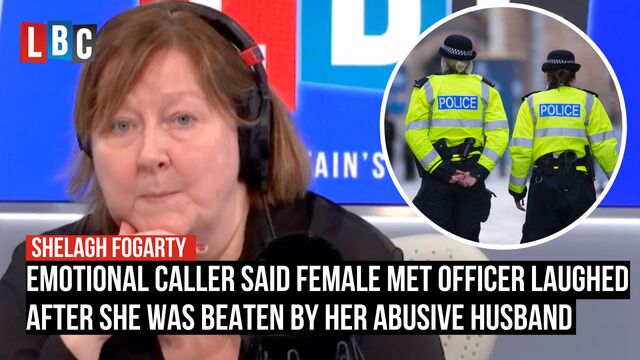 Caller shares her traumatising experience with a female police officer
An emotional caller tells Shelagh Fogarty about her horrific experience with female Met officers after they refused to charge her abusive ex-husband.
With the publishing of the Casey report, the scale of change needed in the Metropolitan was laid bare to Shelagh Fogarty when one caller, Sarah in Tring, described how she had been beaten by her husband after she told him she would leave him because he had been having an affair.
Speaking to Shelagh, Baroness Casey had said the Met needed to "woman up" but this caller told Shelagh: "Everybody seems to be focusing on bad male officers but I've had the most awful experiences with female police officers."
She insisted that the corrupt women in the police force are not "highlighted enough".
The emotional caller recounted: "Almost 10 years to the day, I found out that my husband was having an affair, so I decided that I was going to leave him. When I told him I was going to leave him... for the next 72 hours, I got beaten."
She said he recorded what happened until he was arrested by police, and during her ordeal, she told him she wished he was dead.
"In the end, I phoned the police. Two officers came round and arrested him, took him away and in that call, I admit, I did say I wished him dead."
Sarah told Shelagh her ex-husband had punched her, kicked her, spat in her face, and shouted at her.
READ MORE: Met needs to 'woman up' and stop being in denial about who's to blame for its problems, Baroness Casey tells LBC
Following on from her husband's arrest, Sarah shared with Shelagh: "A female police sergeant rang me. She gave me an update. I said 'right, will he be charged?
"And she laughed, she said no. I said 'pardon?' She said 'I'm not charging him. She said what you did to him... you shouldn't have done what you did.
"I said 'what did I do?' She said you wished him dead, we've seen the video. I said 'so he's hit me in the face, punched me, pulled my hair out, in front of my two children, and you're not going to charge him?
"She went, 'no, you're very close to being charged yourself'. I went home from the theme park [where she had taken her children for the day] and my ex-husband is standing in our house. Nothing happened to him."
READ MORE: Casey report: 10 damning claims against Met include bacon hidden in Muslim officer's boots and 'sex obsessed' officers
Sarah said she eventually moved in with her parents but a few weeks later his sister tried to run her over. When she went to Hertfordshire Police, she said the male officers' jaws hit the floor.
"They could not believe that nothing had happened to him," she told Shelagh.
Despite having photographic proof of the abuse she suffered, the caller said "nothing to this day has ever happened to my ex-husband".