Jamie Bulger's Mum Tells LBC: His Killers Have Been Rewarded By The System
24 January 2018, 15:20 | Updated: 24 January 2018, 15:21
Jamie Bulger's mother has told LBC that the justice system has given her son's killers everything they wanted.
The two-year-old was abducted, tortured and killed by two ten-year-old boys, Robert Thompson and Jon Venables. They were sent to a Young Person's Offenders Institute until they reached adulthood and were released under new identities.
Denise Fergus, Jamie's mum, spoke to Shelagh Fogarty ahead of the 25th anniversary of the murder.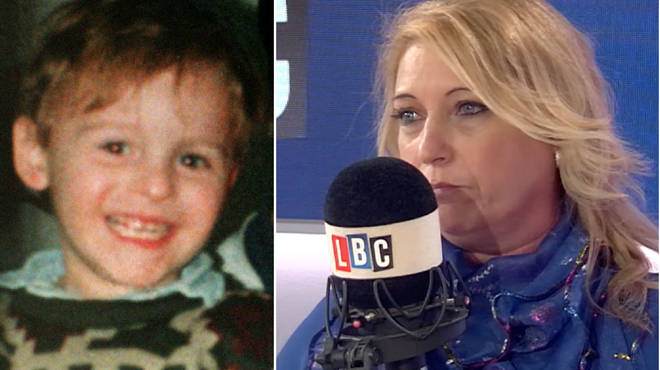 And she said: "The ones who took his life have been rewarded all along. They've been given no chance after chance.
"They were given everything that they asked for. They never spent no time at all in an adult prison. They got taken to a Young Offenders Institute.
"They were released from there so they never spent no time at all. That's all I asked for, for them to spend time in an adult prison, to stop getting rewarded every time. But that never happened in James's case and that's why I continued the fight.
"I remember my solicitor saying years ago, you're going to take this on, you are in for one hardbattle. But I thought you know, I'm his Mum, bring it on.
"Every time they put up a foot wrong, I'll be right there."