How Gwen Stefani Unwittingly Inspired Donald Trump To Run For President
16 October 2018, 14:36 | Updated: 16 October 2018, 15:41
The Academy-Award winning filmmaker and author Michael Moore gives this surprising reason why musician Gwen Stefani inspired Donald Trump to run for the US Presidency.
Michael Moore, who produced documentary films including Fahrenheit 9/11 and Bowling for Columbine, believes the American singer-songwriter Gwen Stefani was behind Donald Trump's decision to run for President.
Speaking to Shelagh Fogarty, the filmmaker said that Trump's jealousy of how much Gwen Stefani was paid on a competing television show, when he was the presenter of The Celebrity Apprentice, nudged him to show off his popularity at a rally.
But when he described Mexicans as rapists, he was fired from the show by NBC and instead of cancelling the rest of the planned rallies, Michael Moore says he continued. But the attention went "right to his head".
Watch him explain how it lead to him becoming the Republican candidate for presidency in the video above.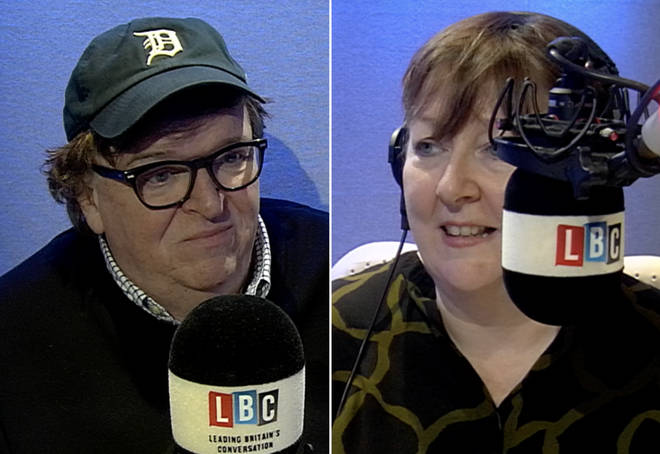 The Reason Why You Can't Say Anything Good About Donald Trump
Towards the end of the interview, Michael Moore struggled to give an answer to Shelagh when she asked him to say something good about the US President Donald Trump.
He said that it was very easy to say something about the previous Republican President, George Bush, but that you can't for Donald Trump because "he doesn't believe in anything other than Donald J Trump."
"He has no ideology," he said.
"He goes wherever which way the wind goes, wherever it's good for Donald Trump, he's there."
Michael Moore was speaking to Shelagh about his new documentary film Fahrenheit 11/9 that explores the 2016 Presidential Election and subsequent presidency of Donald Trump.
Fahrenheit 11/9 is out in cinemas nationwide from Friday.
Watch the interview in full in the video below.