New York Explosion Witness Describes Panic And Confusion In Manhattan
11 December 2017, 13:54 | Updated: 11 December 2017, 18:32
An eyewitness commuting through New York's Port Authority said "everyone legged it."
Police are treating an explosion in the Manhattan subway as an attempted terror attack.
A "low-tech" device partially detonated during this morning's rush hour.
A suspect, who has been arrested, as well as three others were injured - non of them seriously.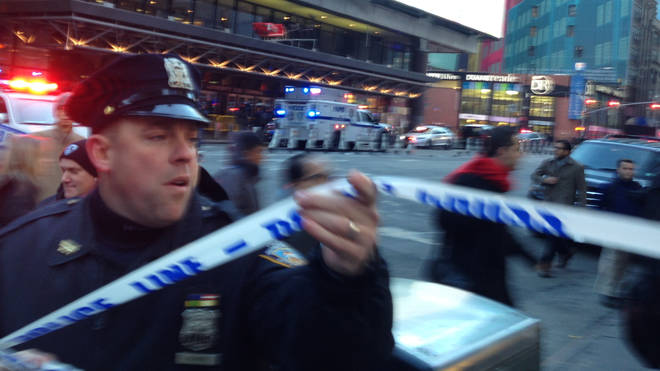 Josh Caplan, a British Journalist with The Tab in New York was evacuated from the Port Authority.
He told LBC: "Suddenly I heard a lot of shouting, people rushing up from the subway and police shouting 'Get out, get out, get out.'
"I tried to work out what was happening from the people rushing past me and a lot of people said they had heard the explosion and they were told to get out as fast as they can.
"As I was leaving there was a huge mass of people, imagine a station in rush hour, flooding out onto one of New York's busiest streets.
"There were a lot of people saying they saw this and that, there was a lot of confusion. There was an explosion and everyone started legging it out of the station.
"I would say it's one of the busiest parts of Manhattan, a couple of blocks from Times Square. There's five or six different subway lines, ten different bus lines and loads of tourists as well.
"It's one of the busiest spots in New York for everyone."
Listen to the interview at the top of this page.