Police Called 'Bullies' For Rough Arrest: WATCH
6 December 2016, 13:14 | Updated: 7 December 2016, 07:18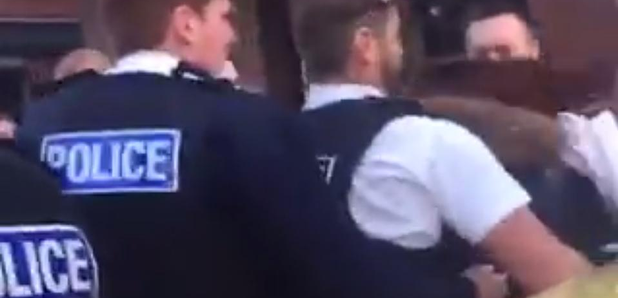 This is the video of police arresting youths in Liverpool, which has prompted a furious debate online for alleged heavy handed tactics.

Video: Antoinette Hannah

The video shows officers arresting a group of teens including one girl in front of a large group of people in Liverpool.

The crowd can be heard remonstrating with the officers as the teens are cuffed and put into a police van.

Melissa Inman, who shared the video on Facebook told the Liverpool Echo : "I witnessed police officers attack young kids, dragging them on the floor into the van."

"One kid's face was that red we thought he was going to pass out by how tight he was cuffed and how hard he was handled. It was disgusting!"

"I am shocked at how the police handled this situation."

A spokesman said: 'Merseyside Police can confirm that three people have been arrested after reports of anti-social behaviour in Queens Square, Liverpool city centre."

"A 13 year-old male was arrested for threatening behaviour and assault, a 15 year-old female was arrested for assaulting a police officer and possession of a controlled drug and a 17 year-old male was also arrested for disorderly behaviour."

"They have been taken to a police station where they will be questioned by officers."