Remain MPs Deserve To Be Lied To Because They're Trying Stop Brexit, Caller Claims
6 December 2017, 15:44 | Updated: 6 December 2017, 16:06
A caller defending David Davis has hit back at Remain MPs, telling LBC they "deserve to be lied to" because they're "just playing games to stop Brexit".
The Brexit Secretary is under fire after admitting the government had not carried out any impact assessments of leaving the EU on the UK economy.
Despite having previously signalled that the work had been undertaken, Mr Davis admitted there was "no such systematic impact assessment".
He told the Brexit Select Committee the usefulness of such assessments would be "near zero" because of the change Brexit is likely to cause.
"I am not a fan of economic models because they have all proven wrong," he told the group of MPs on Wednesday.
But, during a discussion about whether Mr Davis had lied, Carl appeared unfazed.
The caller told Shelagh Fogarty the condemnation of the government was the latest in a string of "attacks" by politicians trying to "stop Brexit".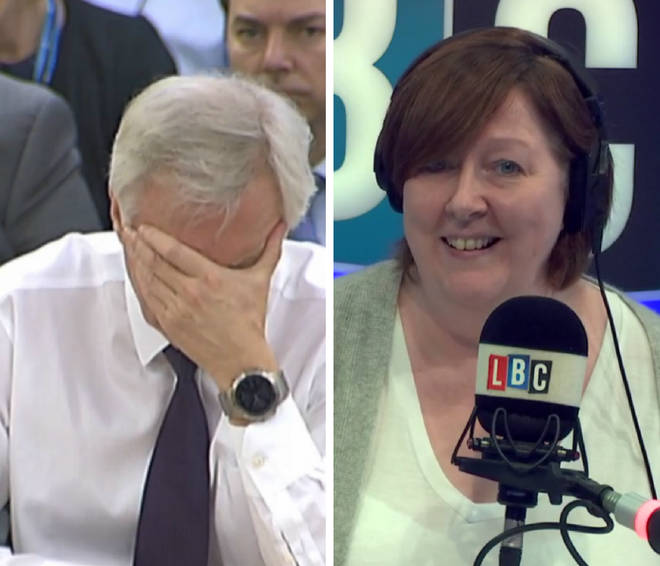 - Brexit impact assessments 'do not exist', David Davis admits
He said: "Whoever is demanding that these reports are shown and given the light of day deserve to be lied to because they're just playing games to stop Brexit."
Alluding to Shelagh's voted to Remain, Carl continued: "They're playing a game on your behalf, not my behalf.
"David Davis is playing a game on my behalf because he is saying to you lot 'stop interfering and trying to stop Brexit, you know we can't show you the report so stop asking for it and that's exactly why you're asking for it'.
"You talk about parliamentary sovereignty and the government has been elected.
"They've done a report that they're allowed to go through and you're saying that you now have authority to tell them what to do."
Watch Shelagh's reaction above.