Shelagh Fogarty: Jacob Rees-Mogg's View On Abortion Doesn't Make Him A Monster
6 September 2017, 14:21 | Updated: 7 November 2017, 14:21
Shelagh Fogarty has offered a passionate defence of Jacob Rees-Mogg after the Tory backbencher said he is "completely opposed" to abortion.
During an interview on Good Morning Britain on Wednesday, Mr Rees-Mogg said life "begins at the point of conception" and abortion was "morally indefensible", including in cases of rape or incest.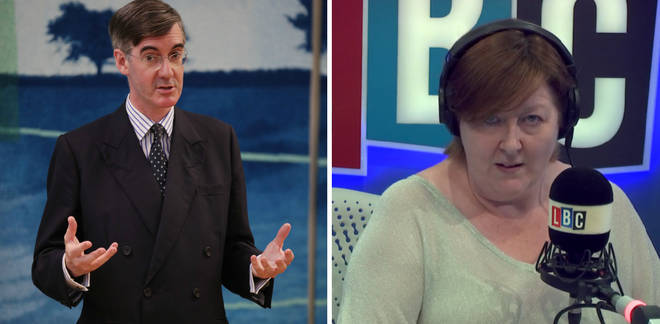 The MP for North East Somerset recently became one of the front runners to replace Theresa May as the next Conservative leader.
As a practicing Catholic, he said he took the teachings of the Catholic Church "seriously" - but insisted women's abortion rights under UK law would not change.
Shelagh, who is also Catholic, said she agreed with the Tory backbencher, except on his point on rape and incest.
The LBC presenter admitted their views may be "difficult" for some to hear, but it was important that they were allowed to be heard.
She said: "Those who would squash this man's view simply because it is in direct opposition to their own are being illiberal - and it's often people who like to regard themselves as the most liberal who are being illiberal towards this man."