Sister Of Ex-Aussie PM Says Campaigning Against Brother On Gay Marriage Can Be "Upsetting"
20 September 2017, 16:01
The sister of the former Australian prime minister Tony Abbott has opened up about what it is like campaigning against her brother on the subject of same-sex marriage.
Christine Forster is an advocate of gay marriage, her sibling, however, staunchly opposes the idea, claiming it risks "religious freedom and freedom of speech".
Last week a non-binding postal vote to gauge support for changing Australia's Marriage Act began being sent out, with the result expected in November.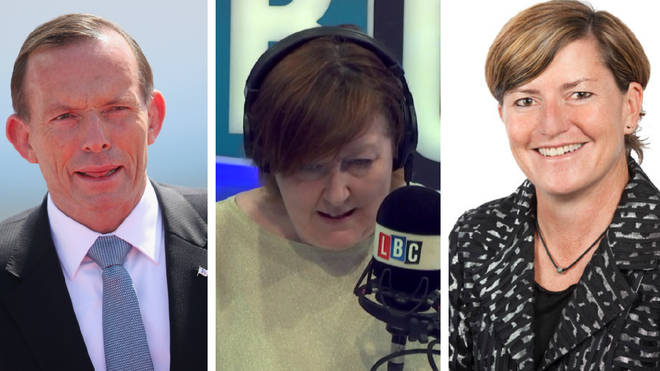 Ms Forster, a Liberal councillor for the City of Sydney who is engaged to her partner of the same sex, joined Shelagh Fogarty to talk about the debate so far.
During the interview, she told the LBC presenter it had been "personally upsetting" hearing opposing views, especially when they came from her brother.
She said: "He and I have agreed to disagree on this issue. We both have longstanding views on this and we've been very public with those views.
"It's an usual situation I suppose for family members to be on opposing sides but that's just how it's worked out."
Asked whether if was hard not to take her brother's view personally, Ms Forster continued: "Sometimes it can be of course.
"There are many Australians who are expressing that opinion… So from my perspective it can be personally upsetting to see some of these views expressed at times but at the end of the day it's a political campaign."