"Tiny, Boyish Voices" Of James Bulger Killers Still Remembered By Shelagh Fogarty
5 December 2017, 16:41
Shelagh recalls covering the James Bulger murder trial in 1993 and asks if it's ever right to name child criminals.
Social media users face jail for exposing James Bulger killer Jon Venables.
Jon Venables and Robert Thompson were both 10 when they abducted, tortured and killed two-year-old James Bulger in Merseyside in 1993. During the court case they were known as Child A and Child B.
Reporting restrictions on naming them were lifted at the end of the trial.
Shelagh, who was at the trial that lasted almost four weeks, said the "whole thing stayed with me in great detail".
She said: "They were 11 years of age at the time of the trial.  It was in November and they had committed the crime earlier in the year when they were 10.  
"They were tried in a public court, in an adult court for murder - so they were expected to appear every day, and they did.  
"They didn't give evidence in the trial but hours and hours of taped police questioning was played in the trial which was extraordinary to listen to. 
"These little tiny boyish voices describing, well it ultimately was Jon Venables describing what he, they did, but Robert Thompson never did accept it in the course of the trial never did admit it in the course of that trial.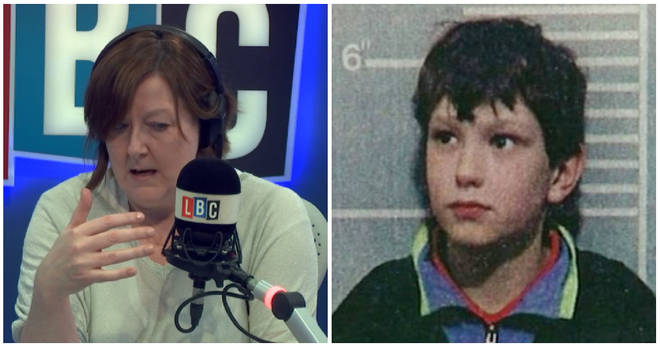 "Throughout the trial, as I was reporting on it, they were called Child A and Child B, and then at the end of the trial I was really surprised to see that Mr Justice Morland, the trial judge, decided to lift reporting restrictions and allow the names of the killers to be released."
Shelagh highlighted the reasons he gave for doing so.
His statement read: "I did this because the public interest overrode the interests of the defendants.  There was a need for an informed public debate on crimes committed by young children."
The LBC presenter recalls how they were initially sentenced to eight years in jail, which was later increased to 10 and then again to 15.
On her LBC show she asked if child criminals should ever be named.