Vince Cable: Brexit Could Lead To Fragmentation Of The UK
4 December 2017, 14:41 | Updated: 4 December 2017, 14:54
Sir Vince Cable has reiterated his warning that Brexit could lead to the "fragmentation" of the UK.
The Liberal Democrat leader was speaking moments after the DUP warned Northern Ireland must leave the EU on the same terms as the rest of the UK.
Arlene Foster said her party would not accept any regulatory divergence as it emerged a "special situation" is expect to be confirmed for Ireland.
It's reported the UK was prepared to accept the North may remain in the EU's customs union and single market in all but name.
This has since led to the Scottish First Minister Nicola Sturgeon to tweet that Scotland should be allowed to "effectively stay in the single market".
Joining Shelagh Fogarty, Sir Vince described the problem as a "mess".
He said: "It's going to have very damaging consequences."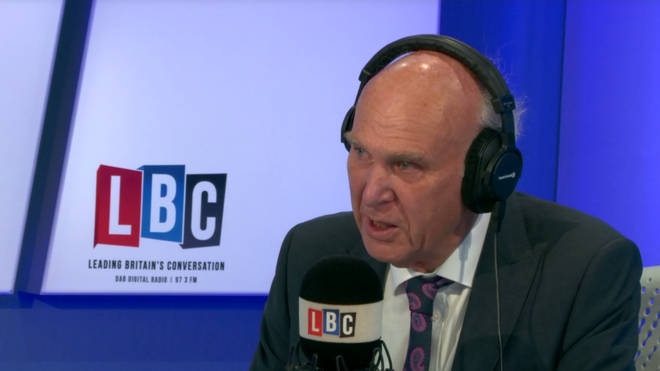 "The principle has now been accepted by the government that one part of the UK should have a fundamental different relationship with the European Union than the rest of it.
"Once you've conceded that point it's very difficult to see why Scotland which has a very strong sense of identity isn't going to demand the same.
"I don't want to see the UK fragmenting but unfortunately this is what some of us warned Brexit would lead to."