WATCH: Undercover Footage From JD Sports Warehouse
14 December 2016, 12:56 | Updated: 14 December 2016, 13:42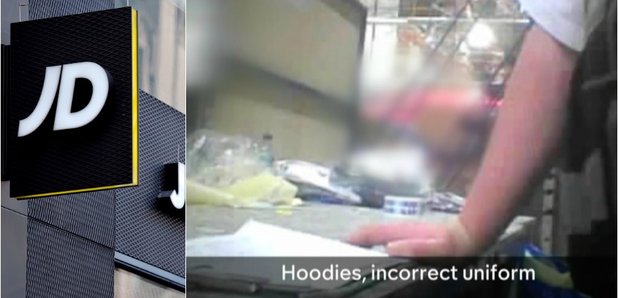 A Channel 4 News undercover reporter has uncovered the strict conditions that workers at a JD Sports warehouse in Rochdale face.
The clips reveal the punishing conditions for workers, who are forbidden from sitting down and face a "three strikes" policy that could see them lose their jobs for something like wearing the wrong type of watch.
Temporary workers told Channel 4's reporter that the conditions in the warehouse were "worse than prison".
The warehouse runs 24 hours a day, seven days a week and employs 1500 people. JD Sports' profits have grown by 66% in the first half of 2016.
In the top clip, one of the supervisors says he has sacked workers - on the spot - for sitting down on a shift. He goes on to tell the undercover reporter that the job she has been given is "easy" compared to some of the other jobs in the warehouse.
JD Sports told Channel 4 News: "our people are never 'sacked on the spot'. In any cases of serious misconduct, thorough investigations take place. We take the overall treatment and wellbeing of our employees very seriously and we are extremely disappointed to be faced with allegations of line managers behaving in an offensive and bullying manner."
In this second clip, the reporter is given the list of "offences" that can earn a 'strike'. Three of those and workers are reportedly fired:
Watch the Channel 4 News investigation into JD Sports at 7pm. Shelagh Fogarty will be talking about the videos from 3pm.