Donald Trump Sounds Like Jeremy Corbyn Says Stig
5 February 2017, 16:55 | Updated: 5 February 2017, 17:27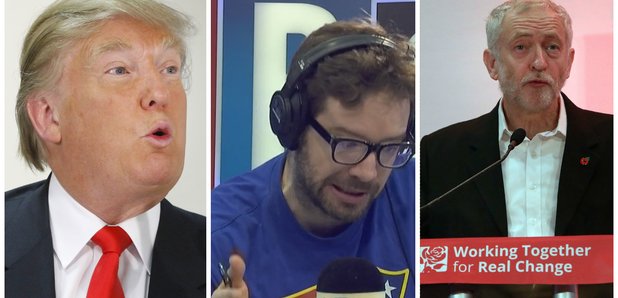 Speaking about whether Putin is a threat, Stig Abell said that Trump's recent comments about America's track record in comparison to Russia's make him sound like Jeremy Corbyn.
Ahead of the Super Bowl Donald Trump had an interview with Fox News in which he said he respected Russian President Vladimir Putin.
He told Fox News host Bill O'Reilly: "I do respect him. Well, I respect a lot of people, but that doesn't mean I'm going to get along with them."
When O'Reilly said that Putin is a killer, Trump said: "We've got a lot of killers. What, you think our country's so innocent?"
On his Sunday afternoon show Stig asked whether Putin is a threat or not, adding that Trump's comments are similar to those Jeremy Corbyn would make.
He said: "It's a classic piece of whataboutery you often hear about America, although it's really rare to hear the American President do it.
"So Trump's position is that kind of left-wing anti-Americanism. Don't criticise Russia because America has historically done some terrible things.
"He sounds like Jeremy Corbyn."
Stig then went on to have a "fascinating" conversation with a caller living in Poland, Lucas, who explained why Putin is a threat.
Watch the interesting exchange below.