Moment Daughter Of Hero Scaffolder Who Chased Off Moped Gang Phoned LBC
27 June 2018, 16:04 | Updated: 27 June 2018, 18:37
This is the moment the daughter of a hero scaffolder, seen chasing off a moped gang who tried to rob and mother and child, phoned LBC.
Lucy from Surrey called Tom Swarbrick to praise her "everyday hero" dad after footage of the attack went viral on Tuesday.
The chilling video was shared by Britain's Got Talent judge Amanda Holden.
It shows two helmet-clad men attempt to steal jewellery from a woman as she walked with a child in Richmond last week.
A scaffold truck stopped as the victim ran into the road and a group of men jumped out to chase after the culprits.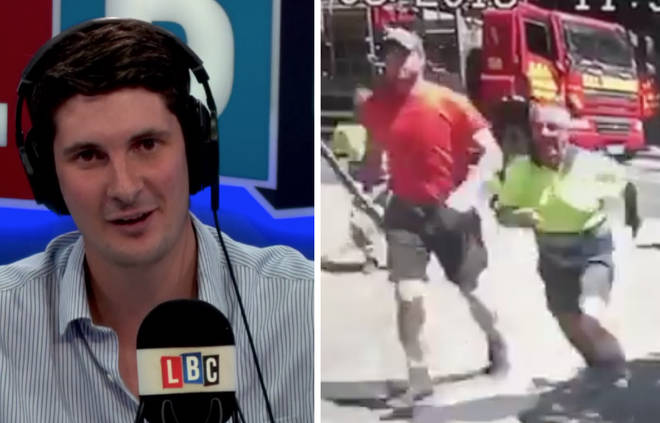 They've been widely praised online for their heroic intervention.
Lucy explained: "They were just driving along and saw the lady in the middle of the road, they obviously saw the moped riders were there and they jumped out to help."
She said the gang pulled out "what looked like a weapon" before riding off on their bikes.
Her dad, 59, rang her up later that day and warned her to "be careful".
"I've got little boy myself," she continued. "And he said the police say… [moped gangs] are targeting women with children to get them to hand over whatever they've got, phones, bags, etc and he told me to be careful."
Lucy finished by telling Tom her dad was a little shaken, but added he is: "sad at the state of the way things are going.
"He just done what he thought he should do."
A spokesman for Richmond Police said: "Police were called at 12:35hrs on Thursday, 21 June to Sandpits Road in Petersham after a woman was approached by four men on a black moped and motorbike who demanded her jewellery.
"They threatened her and a young child who was with her."No injuries were reported.No weapon was seen, although it was intimated.
"There have been no arrests at this time."