Gun Free Zones Are "Very Dangerous", Republican Spokesperson Claims
27 August 2018, 07:59 | Updated: 27 August 2018, 08:21
Tom Swarbrick criticised a spokesperson for Republicans Overseas who said that creating gun-free zones would be "very dangerous", as a gunman kills two people and himself at a video game tournament in Florida.
A gunman has killed two people and himself in Jacksonville, as gamers live-streamed a regional qualifier for a new football video game.
Nine people were shot, and two injured fleeing the scene.
Their conditions are not thought to be life-threatening.
But Drew Liquerman, the Chairman of Republicans Overseas in the UK, suggested that the idea of a gun-free zone was a "terrible idea".
"I think the idea of a gun-free zone is simply very dangerous, and a terrible idea," he said.
Tom Swarbrick was in disbelief. He asked: "You think it's dangerous to have an area where there aren't any guns?"
Mr Liquerman replied: "There are certain areas that could be gun-free zones, but if they have no police or armed security, that makes them a seriously dangerously idea."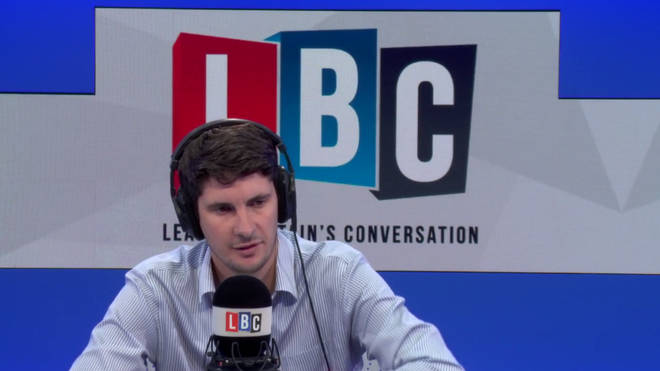 Tom interrupted: "Then this becomes an arms race!"
Mr Liquerman said: "The only people who are going to bring a gun into a gun-free zone are criminals."
Tom said: "But if you don't have a gun-free zone, you are essentially saying arm everybody in order to protect everyone."