Knife Crime: This Row Over Police "Racism" Got VERY Angry
12 November 2018, 08:56
This debate about knife crime got extremely fiery after one guest said the police are bordering on fascistic over how they are dealing with the crisis.
Kofi Mawuli Klu from the Pan African Reparations Coalition made the claims while speaking to Tom Swarbrick as they discussed how police should deal with the spiralling problem of fatal stabbings in Britain.
It came after Trevor Phillips, the former chairman of the Equality and Human Rights Commission said police officers should be exempt from race discrimination laws in order to target black youths in high crime areas.
Mr Phillips said that "white liberals" need to stop "hand-wringing" and admit the truth that the wave of knife crime is black children killing black children.
Former firearms officer Roger Gray agreed, bur Mr Klu fired back, saying: "This is absolute ignorance. This is tosh.
"If you are serious about crime, you have to go to the root causes of the crime an race is at the root of what is happening within our black communities.
"We have the police asking for more powers in order to set this country on the road of fascistisation."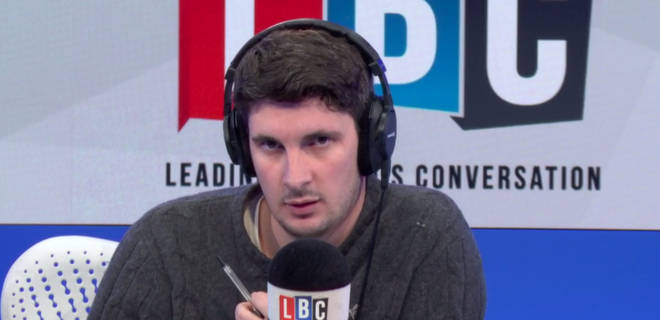 When Mr Klu insisted the knife crime crisis goes back to slave times, Mr Gray responded: "I don't really want to listen to this. This is ludicrous.
"We need to get to the core issues and the most immediate thing is that young men are dying and we've seen parents in terrible grief over this. The police service cannot deal with social issues."
Tom told Mr Klu: "You are blaming slavery for the problems that we're seeing on our streets. You are using it as an historical means to create the circumstances in which the crimes are taking place.
"Your solution is to try to get the police to teach?"
But he responded: "Contemporary problems have historical root causes. If a policeman doesn't understand this, he's just a robotised zombie who needs to be locked up in a mental asylum."
Listen to the incredible row in the video at the top of the page.