Theresa May's Warring Cabinet Comes Under Attack From Tom Swarbrick
27 June 2018, 14:47
Theresa May's warring Cabinet has come under attack from one of her former aides - LBC's very own Tom Swarbrick.
Gavin Williamson is publicly clashing with the Prime Minister over defence spending.
Boris Johnson is "trying to bring her down from within" if she purses a soft Brexit.
Liz Truss is openly mocking Michael Gove over his plan to ban wood-burning ovens while Business Secretary Greg Clarke wants a softer form of Brexit.
And with all this in-fighting spilling onto the front pages, Tom Swarbrick has finally had enough.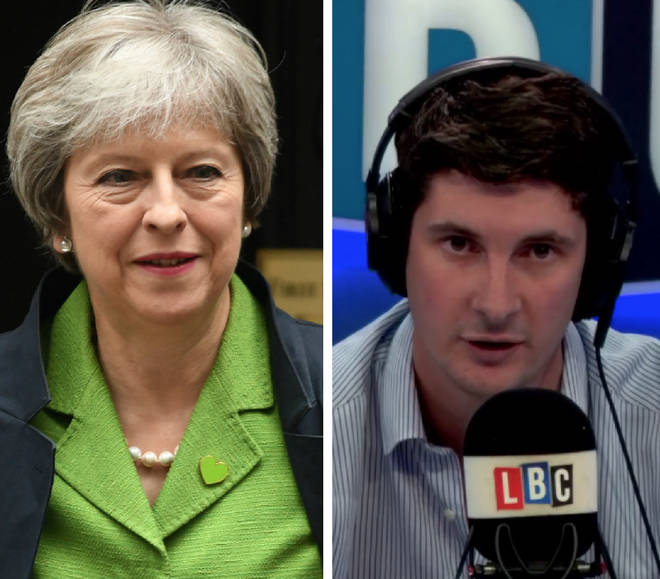 Issuing a direct message to Britain's top politicians, he boomed: "I have sat in Cabinet meetings where the message that the public hates this infighting, that it reduces the authority of the government… that message has been conveyed time and time and time again.
"Yet they trudge out of that meeting with that message ringing in their ears, having just shanked an election, with the biggest challenge facing this country in many many decades still currently being coordinated and they go out and literally slag off their own policies.
"I think there's just an arrogance about it, it shows frankly I think a level of contempt for the electorate, I think it's the fastest way to eradicating any authority you seek to have in front of the public and it angers their own colleagues."
Tom added: "These people are going to jockey for position, it's always taken place, that's politics - it normally happens behind closed doors at the moment, we're seeing it happen absolutely in the public eye and people seem to be revelling in it - they enjoy it!"