Tom Swarbrick grills Tory Chairman over party claiming to be "fact-checkers"
19 November 2019, 22:39 | Updated: 20 November 2019, 07:07
During tonight's first head-to-head TV election debate, the Conservative Party's press office changed its Twitter account name and profile picture to 'factcheckUK'.
James Cleverly joined Tom Swarbrick after the debate between Boris Johnson and Jeremy Corbyn finished - and Tom forced the Tory Party Chairman to explain why his party had done this.
And Tom asked him: "How can the public trust a Conservative Party that on Twitter attempts to brand itself as a fact-checking organisation?"
Mr Cleverly responded: "We were checking... and we saw it just then... the claim the NHS is for sale is nonsense."
Tom interrupted, insisting: "That's your claim, but why do you need to change the Conservative Twitter feed to say FactCheckUK?
"I don't know why you need to masquerade yourself as a factchecking organisation when you would be doing that attempt at debunking anyway."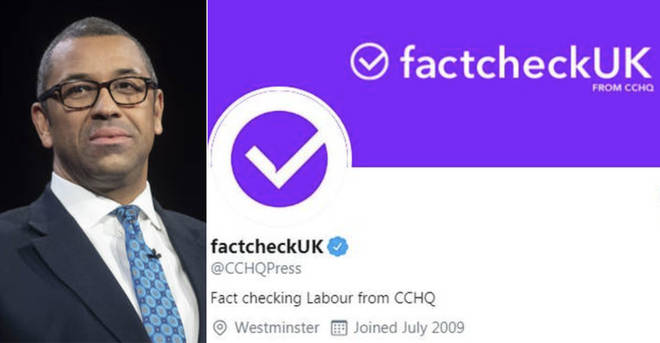 The chairman again responded: "The Twitter handle was @CCHQPress. That has remained unchanged. People know that that is the CCHQ Press Office. We were calling out the blatant inaccuracies that were being put forward."
But Tom told him: "It's incredibly disingenuous. It's an attempt at fake news."
Later in his programme, Tom Swarbrick - who was himself a former Conservative Party advisor, when Theresa May was Prime Minister - questioned why the party's staff thought those tweets were a good idea.
He said: "It's totally unnecessary. Why would you masquerade as a fact-checking organisation when you're the Conservative Party putting out your rebuttals to the Labour Party?
"It was totally ridiculous. Why bother?
"It fits into a narrative. The Keir Starmer video that was edited slightly. The misleading claims that have been made about hospital numbers. And now this.
"It's bewildering."