Remain Voter's Argument Reminds Jacob Rees-Mogg Why He Backs Brexit
23 October 2017, 14:28 | Updated: 7 November 2017, 14:19
When this ardent Remainer put forward an argument praising the European Commission, Jacob Rees-Mogg was instantly reminded why he is so in favour of leaving the EU.
Rickard from Woking said the EU is a "wonderful system" for investors, but soon admitted it perhaps didn't have the peoples' best interests at heart.
The caller told the Tory backbencher, who was sitting in for James O'Brien, he too should be in favour of staying in the EU because he's also an investor.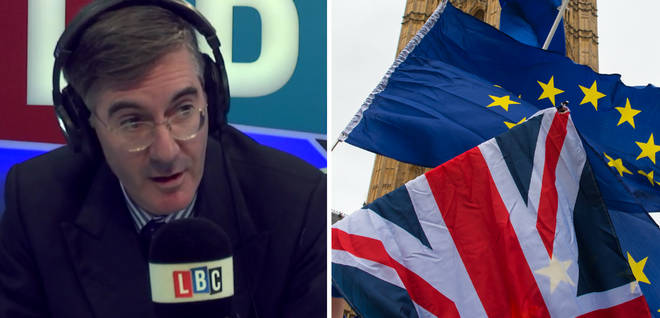 Jacob, however, didn't agree as he responded: "I very much like your approach to this question, but I'm on the other side of this because I trust democracy rather than lobbyists and bureaucratic cabals."
"Well that is the problem," Rickard hit back. "Democracy is the problem.
"If the European Parliament were running everything as a proper parliament then that would be a big danger because the people would actually have a big say.
"At the moment the commission is in the driving seat, it's got the wheel and what anybody says the commission will win out in the end and that's the brilliance of those treaties."
But Rickard's response only reaffirmed Jacob's stance on Brexit.
He replied: "When I saw your message come up that you thought it was good for business investors to be in the EU I thought you was going to make a strong case for why the EU is so marvellous.
"When actually it seems to me you've seen through it. You've seen the crooked ramp that it is."