Girl, 9, To Boris: Don't Close My Fire Station
6 August 2013, 10:09 | Updated: 26 August 2016, 16:31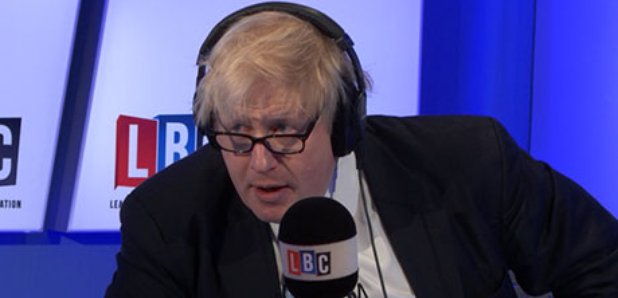 A nine-year-old girl begged Boris Johnson to leave her local fire station open on Ask Boris.
Juliet Price Thomas says she was scared by a fire on the Peabody Estate, saying there are no fire escapes, no sprinklers and no fire bell in the stairwells. She was part of a group of children from the estate who handed in a petition to her local fire station to keep it open.
But yesterday, Boris Johnson gave the go-ahead to close 10 London fire stations and cut hundreds of jobs and the station on Southwark Bridge Road could be closed.
On his second Ask Boris phone-in on LBC 97.3, the Mayor of London admitted that the nine-year-old's plea was "heartbreaking", but insisted his plans were sound.
"We've got to look at the steps we can take that will continue to make London safer from fire," Boris replied.
"I think if you look at what's happening overall in fire cover in London... the story just in the last few years: the number of deaths from fire have come down, the number of fires has come down very sharply and I do have to look at that when I'm making my mind up about this plan.
An estimated £28 million will be saved over two years by the move, which equates to 1 pence per person a day.

"I'll pay that penny for Juliet," LBC 97.3's Nick Ferrari promised. "All of this for a penny a day!"

But Boris denies that the move will weaken London's fire provision.
"You say all of this but we'll still have the best fire cover of any big city," the Mayor responded.

"I understand people's feelings - this is something that is very emotive and there's no doubt that people do feel strongly about it but the same point can be made about police stations, about hospitals... people feel very, very attached to bricks and mortar."
In June, Juliet wrote a letter to Mr Johnson to ask him to visit her on the Peabody Estate and reconsider his decision to close what she calls "perhaps an expensive insurance cover".
A London Fire Brigade spokesperson said: "London Fire Brigade carries out around 13,000 fire safety inspections of premises each year and this vital safety work will continue under the London Fire Safety Plan proposals, which set out how the Brigade will work over the next three years.
"We always inspect properties following a fire and also act on any information we receive if people report safety concerns to us, working with whoever is responsible for the building to ensure that fire safety laws are being complied with.
"Following this particular fire in April, we worked closely with the Peabody Trust to make sure residents were aware that exits and corridors should be kept clear and that other fire safety measures were in place in the flats.
"This work was carried out to our satisfaction and following today's radio report, fire inspecting officers carried out another visit and were pleased to see that everything was still in good order."