Farage Wins LBC Leaders' Debate, Says Poll
26 March 2014, 12:13 | Updated: 16 September 2016, 14:45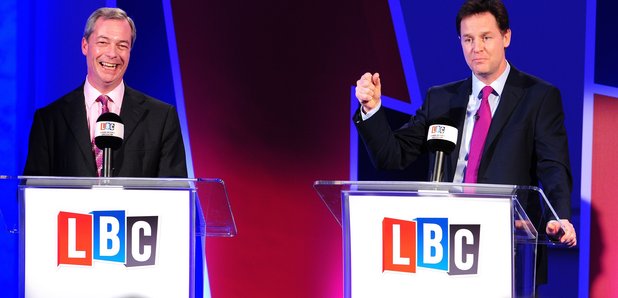 Nigel Farage was the winner of the LBC Leaders' Debate, according to a poll.
The YouGov poll for LBC and The Sun showed that the UKIP leader came out on top of the debate on Britain's future in Europe.
57% of people polled said Mr Farage came out the winner, compared with 36% saying Mr Clegg.
The YouGov poll of 1,003 people came after Mr Farage said it was time to leave the European Union, calling it a "failed project".
But Liberal Democrat leader Mr Clegg insisted: "We are better off in Europe - richer, stronger, safer - and that's why I will fight to keep us in, for the sake of jobs, for the sake of our clout in the world, for the sake of Britain."
The LBC Twitter Worm also gave Nigel Farage victory in the debate, although the margin was a little closer.