Jacob Rees-Mogg Sides With Blair Over Jeremy Corbyn's Leadership
8 September 2018, 11:40 | Updated: 8 September 2018, 11:45
Jacob Rees-Mogg said he agrees with the former Prime Minister Tony Blair that Jeremy Corbyn is the "most dangerous" leader of the Labour Party.
The former Prime Minister Tony Blair said in an interview that the party had gone through "profound change" under Corbyn's leadership.
Conservative backbencher Jacob Rees-Mogg echoed the views, admitting that he agreed with Mr Blair's opinion.
Speaking on LBC, he said; "I agree that the Labour Party has become a serious hard left party and its typical of the hard left, once it gets control, it exerts its control more and more and fits in with what Mr Umunna will be saying.
He added: "At the same time, there's worry about entry into the Tory party, with Aaron Banks being denied membership.
"Parties always welcome converts, but people who say they want to take over the party and change it, it's necessary to be very cautious."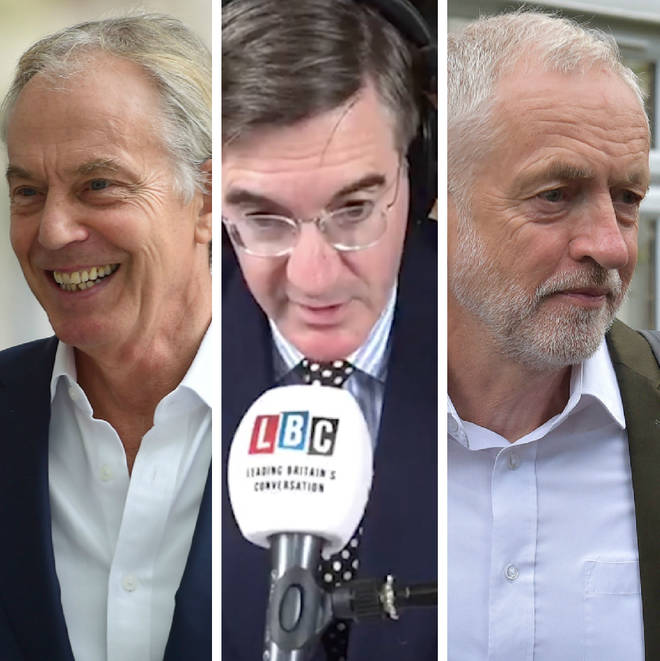 Chuka Umunna has accused Jeremy Corbyn of driving centre-left MPs out of the party, and urged him to "call off the dogs".
In a speech to the centre-left group Progress, Mr Umunna said: "More motions such as this are expected by colleagues.
"My message to our leadership: it is within your power to stop this so call off the dogs and get on with what my constituency, one of the most diverse communities in the nation, demands we do - without equivocation, fight this Tory Brexit. That is where all our efforts should be."
His comments come days after Tony Blair gave an interview where he said the Labour Party had become a "different party" from the one led to win three elections.
"I've been a member of the Labour Party for over 40 years," he said.
"You do feel a strong loyalty and attachment, but at the same time it's a different party.
"The question is, can it be taken back?""This is a different type of Labour Party. Can it be taken back? I don't know."