Why Do People Get A 41-Gun Salute?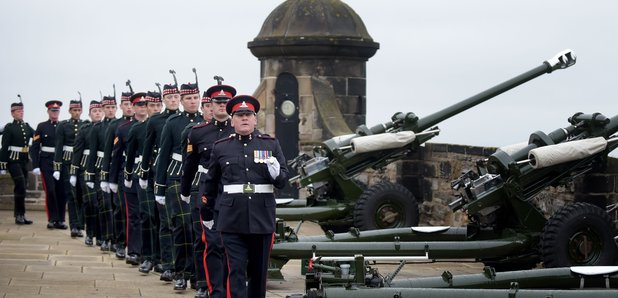 As the Queen celebrates her Sapphire Jubilee, a lot of people have been asking why the baby recieved a 62 gun salute.
It's a question that previously came up on James O'Brien's weekly Mystery Hour show - every Thursday midday to 1pm - about a visit by Barack Obama and here is the answer:
Mystery Hour Question
Barack Obama had a 41-gun salute in his honour. Who decides how many guns a dignitary gets and what do the number of guns mean?
Martin, Richmond
Answer
** Definitive **
Name: Steve, Bexley
Qualification: Trivia that I happen to know
Answer: The standard Royal salute is 21-guns and is reserved for Heads of State. When the salute is given from a Royal Park, an extra 20 guns is added, hence the 41-gun salute. There is also a 124-gun salute, which is when the Queen and Duke of Edinburgh's birthdays occur on the same weekend and is given from the Tower of London. It's 21-guns, plus 20 for being from a Royal Fortress, plus 21 for it being the city of London. That's 62 guns each.
90th Birthday additional explanation:
Traditional gun salutes will thunder across the capital when 41 volleys are fired by the King's Troop Royal Horse Artillery in London's Hyde Park and 62 rounds by the Honourable Artillery Company close to the Tower of London - the extra 21 volleys for the citizens of the City of London to show their loyalty to the monarch.
Royal Baby additional explanation:
The Tower of London is performing a 62 Royal Gun Salute to celebrate the birth of the Royal Baby boy.
So twenty one are to mark the royal occasion, a further 20 are fired because the Tower is a Royal Palace and a further 21 rounds will be fired for the City of London.