AI-driven software could revolutionise brain aneurysm treatment
12 October 2023, 00:04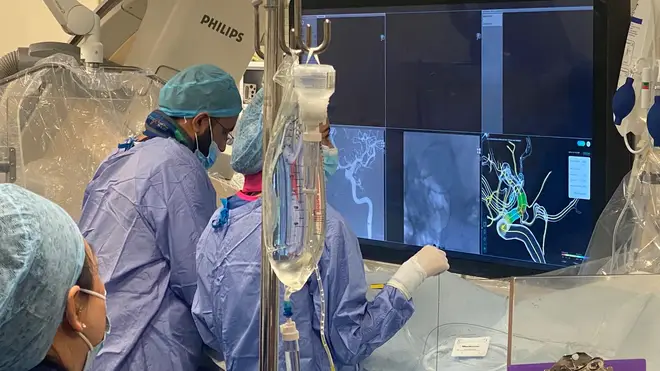 A study found the technology to be 95% accurate when predicting where a stent would be located in the brain
A software platform powered by artificial intelligence (AI) could revolutionise the way brain aneurysms are treated.
It comes after a study found the programme – known as PreSize – was more accurate in predicting the placement of a stent in a patient's brain than experienced neurosurgeons.
PreSize was created by technology company Oxford Heartbeat.
Developers looked at past brain aneurysm surgeries that were completed using "a multitude" of different stents to figure out how the devices behaved.
Stents that are used to treat brain aneurysms are usually made of shape memory alloys, a sophisticated material that springs open once it is unsheathed.
Dr Katerina Spranger, Oxford Heartbeat founder and chief executive, told the PA news agency: "It's extremely important to get the device correct, in terms of the correct size and also correct implantation.
"Currently the way they do it, there is a lot of guesswork involved."
According to the NHS, brain aneurysms can develop in anyone at any age, but are more common in people over the age of 40.
Aneurysms are caused by a weakness in the artery wall and, if detected before rupturing, can be monitored through regular check-ups or sealed shut with a tiny metal clip during surgery.
Another method is having a stent fitted, which is a soft, flexible mesh tube made of metal.
To treat brain aneurysms, they are placed inside the artery in the groin using a catheter and fed through the body using X-ray screening.
Dr Spranger said the devices are "extremely complex" with a high complication rate, the most common of which are blood clots that can cause strokes.
"If the device is for example, undersized, it can detach from the blood vessels and start travelling around the circulatory system of the body, which is huge complication," she added. "Or if it's oversized, it can almost rupture the vessel."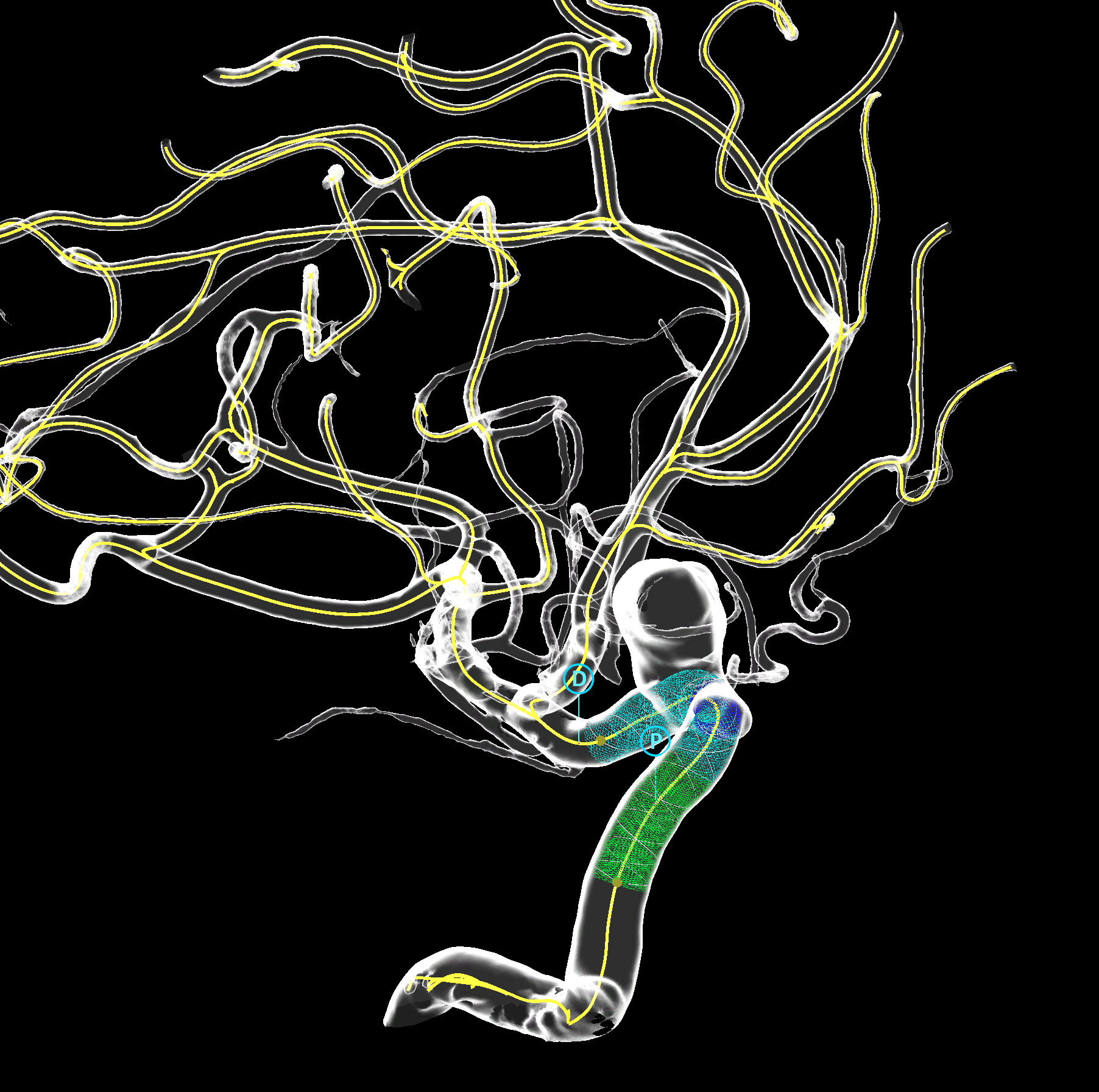 PreSize works by giving clinicians an accurate, reconstructed image of the patient's brain along with a library of devices – known as "digital twins" – that behave exactly as a stent would in real life.
Dr Spranger said: "This is another key to the complexity of the problem, because all those devices are very different. Each manufacturer has their own proprietary technology.
"In the virtual environment, the algorithms put the two together – the complex anatomy of the patient and mechanics of the device. It can predict what's going to happen if you put a particular device into particular location."
Clinicians are able to use the PreSize platform in theatre, loading a patient's scan and trying out different devices to decide which will work best.
She added: "We do a lot of research, a lot of experiments, to make sure that the digital twins actually correspond to the actual device's behaviour.
"We designed it so that it's extremely intuitive and extremely accurate. Fit for a high-stress surgical environment, because the patient is usually already on the table."
The process takes three minutes using PreSize, as opposed to 10-15 minutes without the software, according to Dr Spranger.
"A fraction of a millimetre can make or break a surgery," she told PA.
"We knew that for a software to be successful in such a high-stress environment, it has to be super easy. We designed it so that it can be used without even any training.
"They get real-time feedback. For example, if they want to try another device, reposition the device, elongate the device, choose another – it immediately reacts and immediately tells them 'this is how it's going to look'."
PreSize has been used in procedures with 375 patients to date.
It is being used across seven hospitals in England and Scotland, as well as at hospitals in Germany, Finland and Ukraine.
The technology is also currently involved in a National Institute for Health and Care Research (NIHR) trial, which Oxford Heartbeat said will help "collect objective evidence" on the PreSize.
An NIHR spokesperson said: "At the NIHR we recognise the huge potential for AI technologies to speed up diagnosis and treatment and improve outcomes for patients.
"NIHR is funding a range of AI projects, including this one alongside the NHS AI Lab, to gather the evidence needed to bring this technology to more patients in the future, right across the NHS."
A study, published in the BMJ Journal of Neurointerventional Surgery, found PreSize to be more accurate in predicting where a stent will "land" in the brain compared to human clinicians.
Researchers recruited eight neurointerventionalists – two of whom were from the UK – who were given 3D images and data annotated with the landing location of the stent for 51 cases.
The medics were given the starting point of the stent and were asked to perform a planning route as they would in normal practice, estimating its landing location using the data provided and the dimensions of the stent itself.
The study found neurointerventionalists had an 81% accuracy rate on average, while PreSize had a 95% accuracy rate.
Dr Spranger said the use of software in healthcare is "a medical device of a new generation" and will "become standard of care because it's so accurate".
The NHS is currently using AI to help clinicians read scans and X-rays to speed up diagnoses and decision making on treatments.
However Dr Spranger said "rigorous testing" should be carried out on new systems before they are deployed.
"AI has the potential to revolutionise healthcare, but before we adopt it we must rigorously test new systems," she said. "Medical device software companies like ours should be held to account to address any distrust about AI."