Trump Is Wrong, Climate Change Is More Dangerous Than Terror: Ian Collins
28 February 2017, 07:48 | Updated: 28 February 2017, 11:00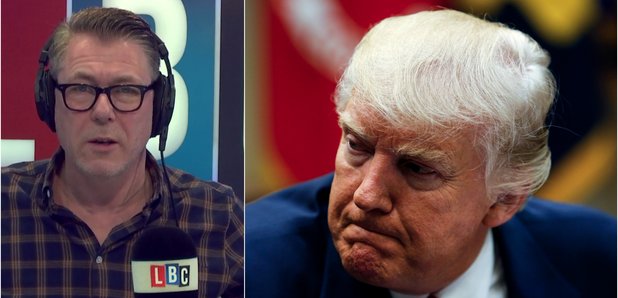 Donald Trump is wrong to divert spending from the environment to defence, as climate change is a much bigger concern than terrorism, says Ian Collins.
The President's budget plan is to boost military spending by 10%, with the Environmental Protection Agency braced for a particularly painful hit.
But Ian said he is much more concerned about global warming than he is about a terror attack and to cut spending on environmental issues is extraordinarily short-sighted.
Speaking on his LBC show, he said: "The fact is climate change, whoever is responsible, is clearly real.
"I know that climate will always change but that's not to say that our grandkids are going to be in a situation where they might be wiped out by the next meteorological event, all because we didn't do something. We don't get a rehearsal on climate change.
"You see the point here is I'm more scared of that than the thought of a madman trying to chop my head off as I go shopping in a well known out of town retail park.
"Don't get me wrong, I would rather the second one didn't happen. Being beheaded while off buying trainers is not conducive with an ideal day out, but statistically I don't think it is likely.
"I want good security, I want tough policing, I also want to quit the ridiculous overtly polite narrative we've carved out in order to avoid religious sensitivities. But I still don't think it's statistically probable that I'm going to be slaughtered while out buying a pair of Nikes.
"It is however statistically probable that my great grandchildren will see vineyards in the North Pole and will be walking around in protective suits to avoid death by the elements. That is more possible."