Donald Trump nominates Amy Coney Barrett for Supreme Court role
26 September 2020, 22:24 | Updated: 27 September 2020, 10:05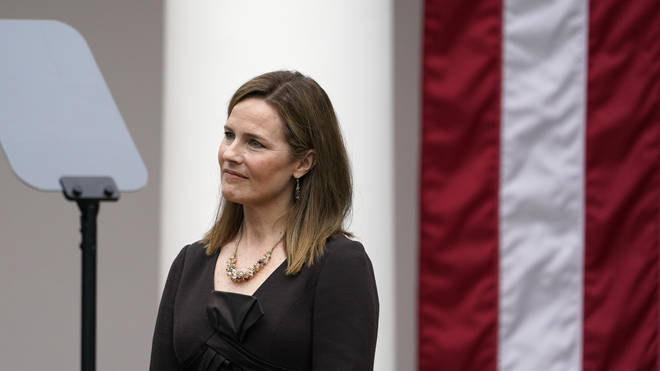 Donald Trump has nominated Amy Coney Barrett to fill the Supreme Court justice role recently vacated after the death of Justice Ruth Bader Ginsberg.
The US president told a crowd gathered at the White House's Rose Garden on Saturday that he was fulfilling one of his "highest and most important duties" with his nomination.
Paying tribute to Justice Ginsberg as a "giant," he then announced his pick for the "brilliant" Barrett, whom he added was of "towering intellect".
Mr Trump then encouraged members of the Senate to ensure a "fair and timely" confirmation of Barrett's role.
READ MORE: US coronavirus death toll surpasses 200,000
Judge Barrett was confirmed to the circuit court by a bipartisan vote.

Her qualifications are unsurpassed.

"This should be a straightforward and prompt confirmation." pic.twitter.com/x5ujObYg0o

— The White House (@WhiteHouse) September 26, 2020
The 48-year-old devout Roman Catholic has been a judge on the 7th US Circuit Court of Appeals since 2017 and is known for her conservative lean, which includes her favouring of gun rights and opposition to abortion.
She is also known for taking a hardline stance on immigration.
READ MORE: Crowds scream 'Vote him out' at Donald Trump as he pays respects to Ruth Bader Ginsberg
Speaking as she accepted her nomination, Ms Barrett said she felt "deeply honoured" as she also paid tribute to Justice Ginsberg leading "a great American life" and who "smashed glass ceilings".
Ms Barrett was also previously a clerk to conservative stalwart Antonin Scalia, which has led to other religious conservatives believing she would be an ideological heir to the role.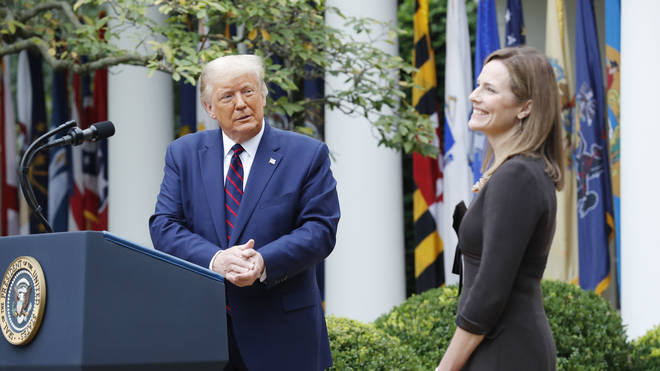 Meanwhile, Mr Trump's political rival Joe Biden urged Senate to wait until after the early November election to confirm Ms Barrett as he argued that voters should have "one more chance to have their voice heard on who serves on the court."
He added of her conservative history: "[Ms Barrett] has a written track record of disagreeing with the US Supreme Court's decision upholding the Affordable Care Act.
"She critiqued Chief Justice John Roberts' majority opinion upholding the law in 2012."
READ MORE: Two US police officers shot during protests over Breonna Taylor killing
Nancy Northup, the chief executive of the Centre for Reproductive Rights, said the potential of Ms Barrett's confirmation would "gut" her predecessor's legacy "and turn back five decades for reproductive rights".
She added: "The Senate Majority's attempt to bulldoze this deeply troubling nomination through before the inauguration in January is unconscionable, an insult to the American public, an assault on the integrity of the Supreme Court, and a threat to critical constitutional rights. Americans need to make clear that their fundamental rights for generations to come will not be pawns in a political power grab."
Following the nomination, the Republican-held Senate is due to hold hearings for several days in mid-October and will likely swear Ms Barrett in by the 29th - just days before the US election.