Donald Trump: Efforts to bring me down were 'bulls**t'
6 February 2020, 17:32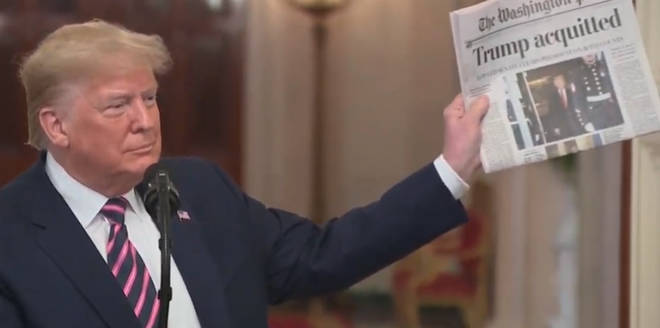 US President Donald Trump has called efforts to bring him down "bulls**t" during his impeachment "victory" speech.
Mr Trump delivered his first statement since the Senate found him to be not guilty on two charges: of abusing presidential powers and of obstructing Congress.
The US leader came out to a prolonged ovation and began speaking at around 5:20pm (UK time), saying the "unfair" impeachment trial had been a "witch hunt" from day one.
Speaking in the White House, he said it was "a tremendous thing" that he was acquitted by the Senate and called those responsible for his impeachment "evil, corrupt and dirty cops ... leakers and liars."
Mr Trump questioned whether other presidents would have been able to stomach the process, before thanking his Republican colleagues and his wife, First Lady Melania Trump.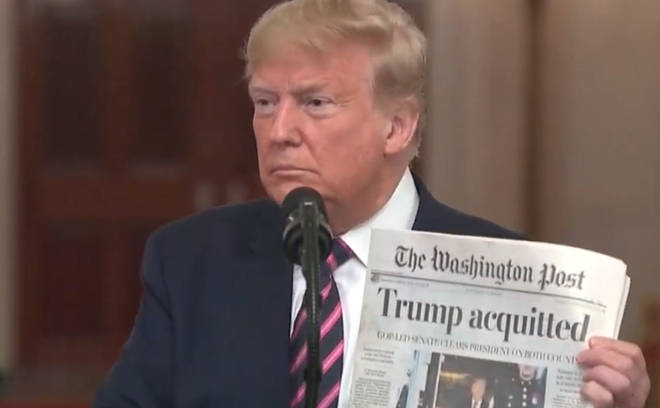 The US leader reiterated that he had "done nothing wrong" with regards to the Ukraine affair, but added "I've done things wrong" previously in life.
"We were treated unbelievably unfairly. We first went through 'Russia, Russia, Russia.' It was all bulls**t. We then went through the Mueller report," which he also condemned.
Former President Bill Clinton famously apologised following his impeachment trial in 1999, but there was no such repeat from the defiant current president.
He then attacked those in charge of the impeachment trial, saying: "Adam Schiff is a vicious, horrible person ... Nancy Pelosi is a horrible person."
Shortly before Mr Trump's remarks, Washington D.C.'s Capitol Police issued a statement saying officers responded to a report of a suspicious substance in the Rayburn House office building - near the office of key impeachment figure Adam Schiff.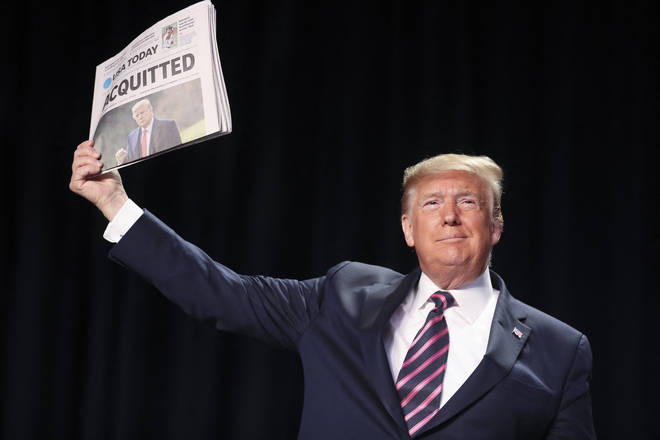 Earlier on Thursday, Mr Trump unleashed his fury against the "dishonest and corrupt" people who impeached him.
Speaking at the annual National Prayer Breakfast in Washington, he said: "As everybody knows, my family, our great country and your president have been put through a terrible ordeal by some very dishonest and corrupt people."
Mr Trump was joined on stage with congressional leaders, including Democratic House of Representatives Speaker Nancy Pelosi who was front-and-centre in charging the president.
Holding up copies of two newspapers with 'Acquitted' as their headlines, Mr Trump added: "They have done everything possible to destroy us and by so doing very badly hurt our nation."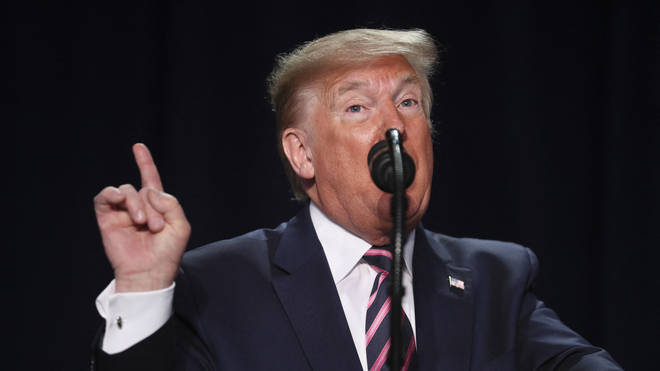 Keynote speaker and Harvard professor Arthur Brooks spoke before the US leader, describing a "crisis of contempt and polarisation" in the nation and urged those gathered to "love your enemies."
"I don't know if I agree with you," Mr Trump said.
"I don't like people who use their faith as justification for doing what they know is wrong," he continued, in an apparent reference to Senator Mitt Romney, a longtime Trump critic who was the only Republican to vote to remove the president.
"Nor do I like people who say 'I pray for you' when you know that is not so," he said, in a reference to Ms Pelosi.