Two dead and 14 wounded in Rochester mass shooting
19 September 2020, 08:47 | Updated: 19 September 2020, 11:48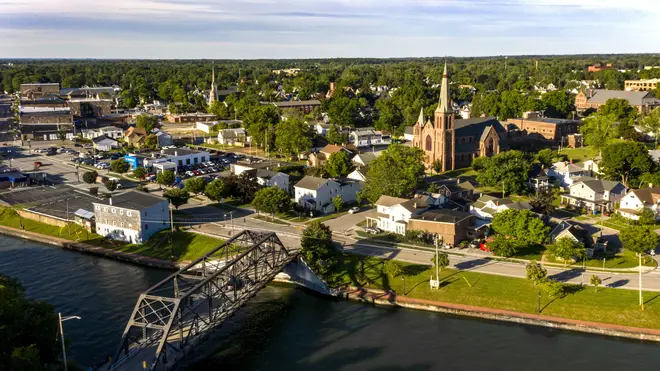 Two people have been killed, with another 14 wounded, in a mass shooting in Rochester in New York state.
The incident began just before 12:30 a.m. on Saturday when police were called to a shooting near Goodman Street and Pennsylvania Avenue, where hundreds of people were gathering outside, local media reported.
Interim Police Chief Mark Simmon told BNO: "It appears to be some type of backyard party that the police department, up until the point the 9-1-1 calls came in for the shots fired, was not aware of."
He also told reporters a man and woman aged between 18 and 22 died during the incident.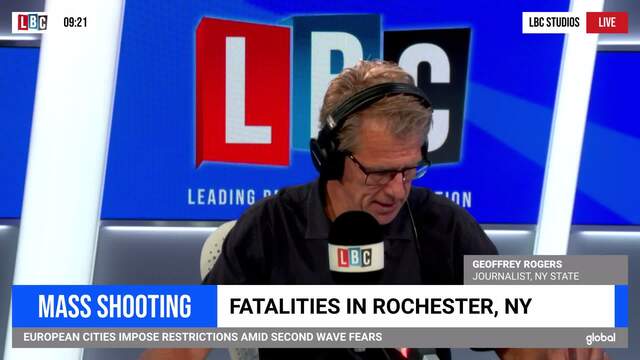 Geoffrey Rogers provides details of Rochester shooting
Geoffrey Rogers, freelance journalist at the scene in Rochester, New York, told LBC: "The police have said 16 people were shot, two have been killed. The youngest victim is around 18 years old.
"There is a possible weapon with police, but no one is in custody yet.
"There was a large gathering, it was a memorial service for someone else who was shot in Rochester recently."
Major Crimes is on the scene of a mass shooting on Pennsylvania Ave. @ there are fatalities. There will be a press briefing @ Goodman & Short St. in about 30 minutes.

— RPD Major Crimes Unit (@RPD_MCU) September 19, 2020
Speaking near the crime scene, which appeared to span at least a block, Simmons said: "This is truly a tragedy of epic proportions."
He added: "This is yet another tragedy where individuals are having these illegal, unsanctioned house parties taking place in these properties, which – number one – is not safe because of Covid, because of the conditions.
"And then you add in alcohol and violence and it just becomes a recipe for disaster."
The 14 people who were injured have been taken to two separate hospitals. None are believed to have life-threatening injuries.
Rochester mayor Lovely Warren issued a statement asking for "prayers and support for all involved".
She said: "I'm begging everyone to remain calm and exercise deep restraint as RPD investigates what happened here and seeks those responsible."