Two teenagers dead after gunman opens fire on California high school
14 November 2019, 16:21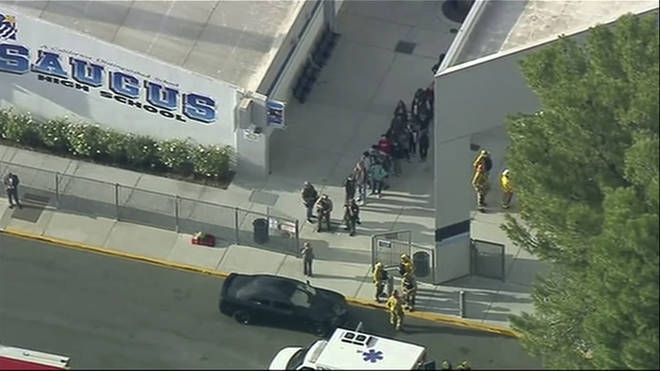 Two teenagers are confirmed to have died after a student opened fire at Saugus High School in California.
Police said the suspect has been taken to hospital and is in a "grave condition" after shooting himself in the head.
The victims, whose identities have not been released, are a 16-year-old girl and 14-year-old boy.
The Los Angeles County sheriff's department also said video footage taken by students showed the boy taking a gun out of his backpack and shooting others before turning the gun on himself.
The shooter's identity has not been disclosed, but authorities have said today is his 16th birthday.
His mother and girlfriend are currently being questioned by police.
Henry Mayo Newhall Hospital, where victims are being treated, confirmed the death of the female student, and said a further four are currently being treated.
Also injured are two girls, aged 14 and 15, and two 15-year-old boys who are in a critical condition.
Los Angeles County Sheriffs Department said they were only searching for one suspect, but added they are "following all leads".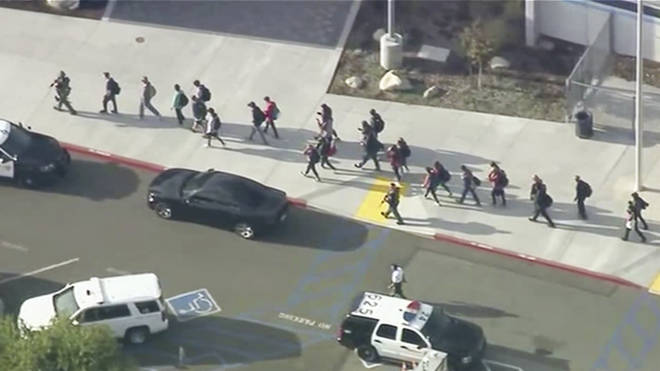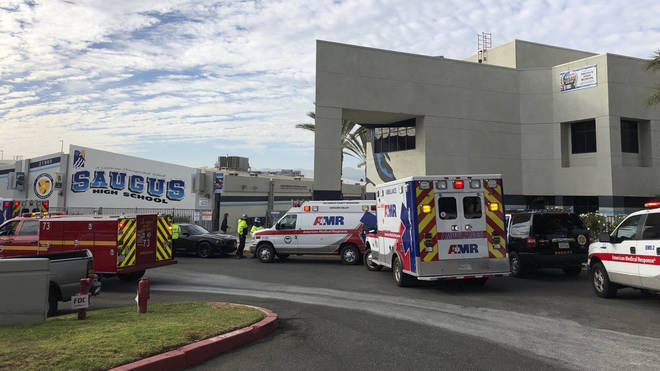 In the immediate aftermath of the shooting nearby schools were also placed on lockdown, and police urged nearby residents to lock their doors and stay inside until the suspect was caught.
Riley, a student who was present during the shooting, told KTLA5 that she was near the campus library when she heard gunshots and began to run.
Another student, Mason Peters, has told of how a teacher sprang into action as soon as he heard gunshots.
Mason told KTLA: "We heard this distinctive sound outside and my teacher quickly sprang to his feet, got up, locked the door, asked one of the students to get the keys.
"We got a bunch of desks, turned off all the lights and reinforced the doors and we all just stayed hidden."
Police described the shooter as an asian male in black clothing.
He is understood to have fled the scene shortly after the shooting, and Sheriffs started combing nearby woodland in an effort to track him down.
According to The Signal, one student has been shot in the torso and was treated by a teacher in the classroom.
Another was discovered with wounds in the school choir room.
Los Angeles County Fire Department spokesman Christopher Thomas said it was not immediately clear if the victims suffered gunshot wounds or other injuries.
Los Angeles County Sheriffs department have urged people to stay away from the area.
More to follow....