Watch again: Donald Trump's 2020 State of the Union address
5 February 2020, 00:37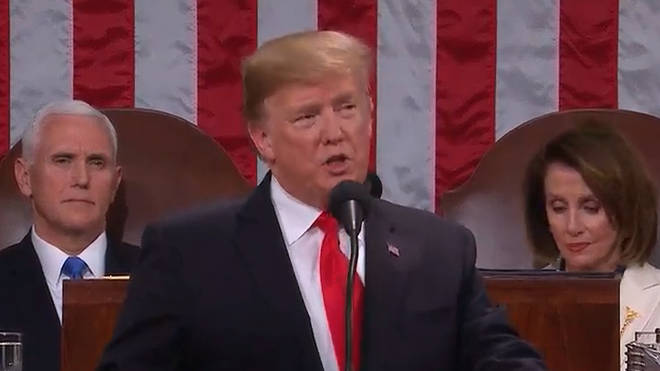 Watch as US President Donald Trump makes his 2020 State of the Union address a day before his impeachment trial is set to conclude.
The US leader is expected to speak at around 2am Wednesday morning, UK time (Tuesday 9pm Eastern Time, USA).
At the beginning of each year, the president addresses Congress in a State of the Union speech, delivering his administration's view of the state of the nation and its legislative plans.
The speech usually contains updates on the budget and the economy, as well as the country's national priorities.
A State of the Union address is a constitutional obligation for any president, in which he or she must periodically "give to the Congress information of the State of the Union, and recommend to their consideration such measures as he shall judge necessary and expedient."
It is seen as an opportunity for the US head of state to rally support for their agenda and, in the wake of Mr Trump's impeachment trial, could be a chance for the president to heal divisions in the country.
Democratic Governor Gretchen Whitmer of Michigan will this year follow Mr Trump with the opposition's view of the Union.
The address is broadcast on American television and radio every year, and you can catch it all live below ...