Arctic blast to sweep UK with snow showers expected to hit, Met Office warns
23 January 2022, 00:38 | Updated: 24 January 2022, 11:46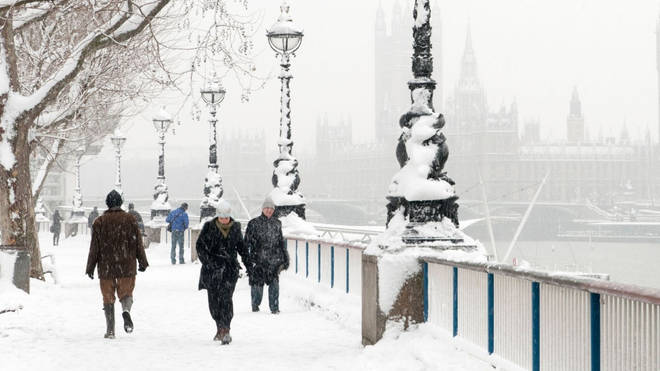 An Arctic blast is set to sweep the UK, bringing in snow showers and a big freeze, the Met Office has warned.
Those in the north of Scotland could see snow this week, while this is expected to reach England by the beginning of February, the agency said.
Forecaster Clare Nasir added: "There will be Arctic air streaming down from the north delivering snow showers, particularly in the far northeast of the country."
Ahead of the extreme weather, the UK Health Security Agency (UKHSA) issued a warning, encouraging people to stay warm and look out for those most at risk as the freezing conditions spread across the country.
It comes after temperatures plunged as low as -7.9C in Oxfordshire on Friday.
Read more: Cummings to meet Sue Gray as No10 police give 'damning evidence' to partygate probe
Read more: 'I've not suffered Islamophobia in the Tory party': Minister hits back as PM orders probe
Friday was a dry day for many, although some rain did move across northern and northwestern Scotland

Here are the extremes for Friday 21st January 2022 👇 pic.twitter.com/GyoKyO3SRd

— Met Office (@metoffice) January 21, 2022
The Met Office previously warned that the east, south east and south west regions of the country will all experience cold weather starting last Friday and ending at 9am this Wednesday, January 26.
It comes after it was predicted that snow would be on the cards from the end of January.
Temperatures are expected to become milder again later this week before a cold snap returns at the end of month.
On Monday and Tuesday it will be cold and cloudy in most areas, before the weather becomes more changeable from Wednesday, with rain over higher ground and breezy conditions.
Showers and possible gales will arrive in north on Friday but it will be more settled in the south.
Met Office spokesman Richard Miles told LBC the coming days will see a "similar story to the last few days, feeling cold under that cloud, dry and mainly fairly settled in the south".
"That's the main story over the next few days in the south, dry and cold and cloudy," he said.
He added: "The exception will be in north western parts which will have a milder feel with outbreaks of rain.
"In the latter part of week there will be more wind and unsettled weather from the north west, with some quite windy weather."