Beast From The East Pt II: Snow Returning To Britain This Weekend
15 March 2018, 07:57 | Updated: 28 October 2019, 15:10
A weather forecaster has warned that winter is returning to Britain this weekend with snow expected across the south-east.
Meteorologist Clare Nasir told LBC that it's going to feel as cold as -6C across Saturday and Sunday and we're likely to get 1-2cm of snowfall.
However, she said the Met Office has put a yellow snow warning in place, not as serious as the amber and red warnings we saw a couple of weeks ago.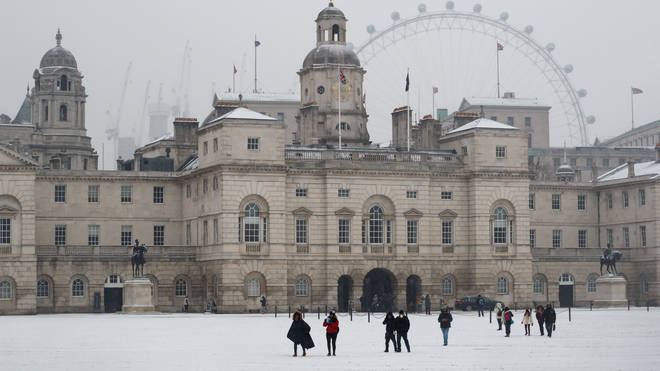 Friday & Saturday Weather Forecast
This is going to kick in on Friday. The source of this is again Siberia and again, it's incredibly cold and bitter.
As the rain hits the cold air on the eastern side of the country, it's going to turn to snow. That will be on Friday evening above 200m, then at lower levels anywhere from the central and eastern parts down the eastern part of the country.
This will be on Friday into Saturday, causing problems on the roads. We could be 1-2cm of snow even at sea level because the air is so cold.
There's also going to be very, very cold winds, so the wind chill will be sub-zero. It's going to feel more like -5 or -6C.
Sunday Weather Forecast
Through the weekend, the wind really picks up again from the east from Siberia and that will blow in a lot of snow showers across the south-east of England. They are likely to pack together, so we could get some disruption from that on Sunday.
This will be coupled with a very severe frost on Saturday night. Winter has definitely returned.
But it won't be as bad as two weeks ago. This is a yellow warning, as opposed to the amber and red warnings we saw last week.