Here Are The Most Striking Tweets About Storm Doris
23 February 2017, 13:36 | Updated: 28 October 2019, 15:10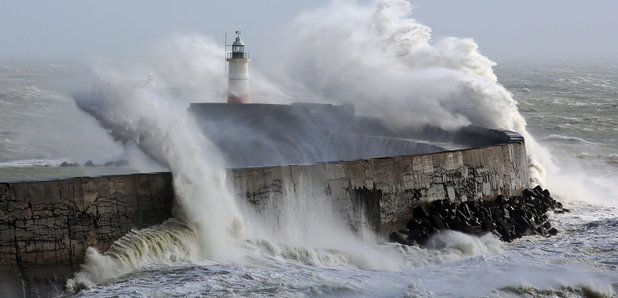 These are the most striking pictures and videos Twitter has to offer about Storm Doris.
As Storm Doris sweeps the UK today, countless people have taken to Twitter to say their piece about the havoc wrecked by the Weather Bomb.
Some have captured the storm's wrath from where they are.
My advice for those planning 2 visit @theAlbertDock today, lovely as it is, stay indoors until storm passes & watch Homes Under the Hammer. pic.twitter.com/sLWO6ViOuF

— Dr R P Benjamin (@DrRPBenjamin) February 23, 2017
Happy #DorisDay - Blackpool feels the force of #stormdoris @PA pic.twitter.com/reMIVp5VnG

— Rich McCarthy (@VJRichMcCarthy) February 23, 2017
Thanks Storm Doris! #stormdoris #london pic.twitter.com/uF6MRGNivq

— Harry Newbury (@HarryNewbury) February 23, 2017
Best of luck using an umbrella out in Liverpool today... #stormdoris pic.twitter.com/uRsNquCmY8

— Liverpool Echo (@LivEchonews) February 23, 2017
Wouldn't like to be them #stormdoris @LivEchonews pic.twitter.com/vhyM6f1vdI

— Kel (@Kelshine22) February 23, 2017
How posh am I? New gym fitted to the shed #stormdoris pic.twitter.com/oE6WLWrevL

— michael devereau (@mickdev2000) February 23, 2017
Others had an important message about the danger of photographing or filming during the storm.
No photo is worth risking your life for. As #StormDoris passes through please #respectthewater. #durdledoor pic.twitter.com/nS2G2K3U1T

— Lulworth Rangers (@LulworthRangers) February 23, 2017
Don't get 'carried away' trying to get photos or video of #StormDoris for #socialmedia - it's not just your life you're risking #StaySafe pic.twitter.com/tDudaVIIaW

— TheCoastguardTeam (@CoastguardTeam) February 23, 2017
This one tweet showed the eerie effects the storm is having on air travel.
ALERT Go-around at Manchester Airport due to #stormdoris Impossible to land for now. Watch live on https://t.co/pvXE9CRKq6 pic.twitter.com/ODbTcmzbXg

— AIRLIVE (@airlivenet) February 23, 2017