Storm Atiyah: How and why are storms named after people?
9 December 2019, 20:54
As Storm Atiyah hits the UK, here is everything you need to know about how storm names are chosen and why they are so important.
Ireland, Wales and southwest England have experienced severe disruption to power and travel due to the weather conditions caused by Storm Atiyah.
Over a dozen flights had to be cancelled or diverted from Cork airport after winds reached 79mph on Sunday evening.
Why is it called Storm Atiyah?
Atiyah means "gift of god" and is part of a list of storm names for 2019-2020 compiled by the Met Office, the Irish Met Éireann and the Royal Netherlands Meteorological Institute.
Other storm names in the list include Iris, Olivia, Samir, Tara, Willow, Noah and Vince.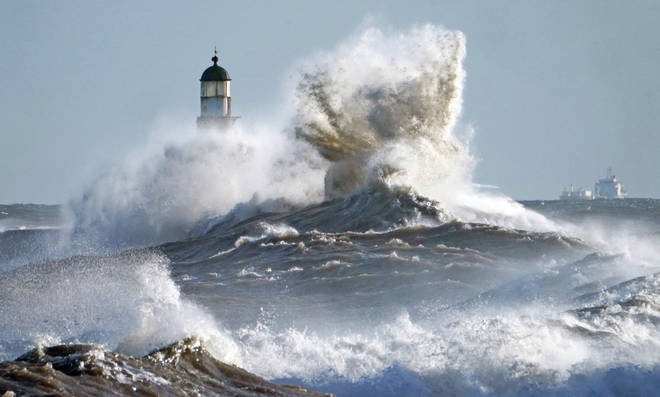 How are storms named?
The Name Our Storm campaign invites the public to send in ideas for future storm names.
The Met Office campaign received thousands of suggestions from the public this year, and said it chose some of the more popular names along with names that reflect the diversity of the UK, Ireland and the Netherlands.
Why are storms named?
A storm is named in the UK when it has the potential to cause disruption or damage, which could result in an amber or red warning.
Based on the Met Office's National Severe Weather Warning Service, storms are usually named on the basis of impacts from the wind, but the impacts of rain or snow may sometimes also be considered.
Evelyn Cusack, Head of Forecasting at Met Éireann, said: "The naming of storms by National Met Services as well as colour coding weather warnings provides a clear, authoritative and consistent message to the public and prompts people to take action to prevent harm to themselves or to their property."
Gerard van der Steenhoven, Director General at Royal Netherlands Meteorological Institute said: "As many people are travelling - sometimes on a daily basis - between our countries, the use of common names will make it a lot easier for them to appreciate the hazards represented by a large storm system."
What is the full list of storm names?
Here is the full list of storm names for 2019/2020.
Atiyah - "Gift of god"
Brendan - "Prince"
Ciara - "Dark haired beauty
Dennis - "God of wine"
Ellen - "Bright light"
Francis - "Free man"
Gerda - "God of peace and fertility"
Hugh - "Mind"
Iris - "Rainbow"
Jan - "Gracious"
Kitty - "Pure"
Liam - "Protector"
Maura - "Great"
Noah - "Rest and comfort"
Olivia - "Olive tree"
Piet - "Rock"
Roisin - "Little rose"
Samir - "A friend to talk with in the evening"
Tara - "Star"
Vince - "Victorius"
Willow - "Willow tree"