Storm Barra: How to stay safe and protect your home during a storm
6 December 2021, 16:11 | Updated: 6 December 2021, 16:15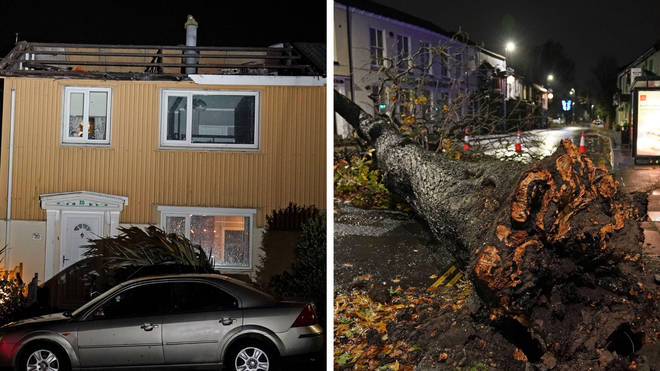 Residents are being warned to prepare for Storm Barra as heavy rain, strong winds and snow is set to batter the UK from tomorrow.
The Met Office has warned that gale force winds of up to 50mph could cause damage to buildings, power cuts, travel disruption, adding that there is "a small chance of injuries and danger to life from flying debris".
The storm comes as thousands are still without power after Storm Arwen, with the Prime Minister's official spokesman saying "that 99.8 per cent of households have power (restored)".
"As of 8am today, there were 1,600 homes currently without power in the North East - that's a reduction of 2,425 since yesterday.
"So there have been significant improvements but we recognise that for those homes still left without power, they will expect, rightly, more to be done.
"We continue to check in incredibly regularly with the power companies to make sure they have all the support needed, and we are assured they are taking every step possible.
Read more: Storm Barra: New snow and wind warnings but thousands still without power
Read more: UK set for more snow and heavy wind as country struggles to recover from Storm Arwen
"Obviously there are significant challenges following the storm, which was unusually strong and caused damage in particularly remote areas."
The Met Office has warned that gale force winds of 45-50mph on Tuesday could make it more difficult for engineers to reconnect homes, but spokesperson Stephen Dixon said that winds will "gradually weaken" as they move east and should have petered out by Thursday.
Here is what the Met Office recommends you do to stay safe and protect your property during a storm.
Before the storm
Residents living in areas where a weather warning has been issued should secure loose objects such as ladders, garden furniture or anything else that could break windows if winds are strong enough to move it.
All doors and windows on properties should be closed and secured, whilst the weather experts recommend parking vehicles in a garage or away from trees, buildings, cars or fences that could fall and damage the vehicle.
It is also recommended, if your chimney stacks are tall and in poor condition, to move beds away from areas directly below them.
Read more: 60 punters face third night trapped in Britain's highest pub after Storm Arwen snow dump
Read more: 'Lack of power' blamed for person's death during Storm Arwen power cuts
During the storm
According to official advice, people living in weather warning areas should stay indoors "as much as possible" during the storm.
If damage occurs during the storm you should wait until it is over before carrying out repairs.
People should not drive unless the journey is "really necessary", and anyone who needs to drive during the storm should take extra care on exposed routes such as bridges, or high open roads.
Read more: Evil stepmother Emma Tustin 'poisoned with salt' in jail in revenge for killing Arthur, 6
Read more: Tustin and Hughes 'must never see light of day', says Arthur Labinjo-Hughes grandfather
After the storm
People should be careful not to touch any electrical or telephone cables that have been blown down or are still hanging after a storm and be careful walking by structures that could have been weakened.
If possible you should check on vulnerable neighbours or relatives to make sure they safe and help them make arrangements for any repairs.