Storm Brendan set to batter the UK as yellow weather warnings issued
12 January 2020, 13:59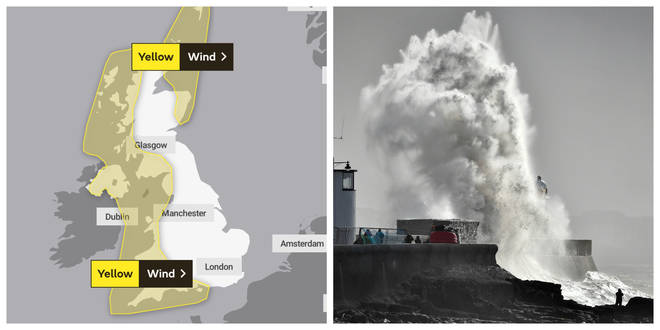 The Met Office has issued yellow weather warnings as Storm Brendan looks set to batter the UK with strong gales and 80mph winds.
The warnings are in place for Northern Ireland, Wales, the western half of England and north east Scotland from midday on Monday.
The storm, named Brendan by by Met Éireann, the Irish weather service, is expected to cause travel disruption.
Yellow weather warnings are also in place for coastal areas, which may be affected by large waves battering sea fronts.
Orange wind warnings are also in place for 11 counties.
Frank Saunders, Chief forecaster at the Met Office, said the UK and Ireland will turn increasingly windy throughout Monday as the storm sweeps in.
He said: "It's going to be windy across the western half of the UK, with gusts reaching 60-70mph along Irish Sea coastlines, the west of Scotland and perhaps some English Channel coasts, maybe even 80mph in a few exposed places."
Mr Saunders added the severe conditions could cause travel disruption, and those in affected areas are advised to take extra care when driving on exposed routes such as bridges or high open roads.
"As Storm Brendan moves eastwards, strong winds will also develop across eastern parts of the UK, particularly northeast Scotland where there is also a wind warning in place.
"As well as strong winds, there will be large coastal waves in western areas, so bear this in mind before heading out in these regions.
Looking further ahead to the rest of next week, he said: "It looks like it's going to stay very unsettled with the potential for further disruptive weather in places."
In Northern Ireland, the Met Office has issued a yellow warning that will be in place from 12pm to midnight.
In Ireland, several weather warnings having been issued. from 7am on Monday in preparation for the storm.
The warning for Donegal, Galway, Leitrim, Mayo and Sligo will be in place to midnight, while the warning for Wexford, Clare, Cork, Kerry, Limerick and Waterford lifts at 3pm.
The forecaster is predicting gusts of up to 130 kilometres per hour and severe coastal flooding.
Looking into January, The Met Office predicts more snow at lower levels as temperatures drop across the UK.
The long range forecast says: "During the last couple of weeks of January, the northwest should see the wettest and windiest weather whilst further south should be drier and brighter with an increased risk of frost and fog overnight.
"Snow will be most likely over northern hills, but it could fall to lower levels at times in the north during colder interludes."
This is the second named storm of the winter season following Storm Atiyah in December.