Storm Ciara: Danger to life weather warnings as UK braces for 'worst storm since 2013'
7 February 2020, 15:11
Storm Ciara is set to be the worst storm to hit the UK in seven years according to the Met Office, which has put two "danger to life" weather warnings in place.
Strong winds of up to 80mph have been predicted, with further weather warnings in place across the whole country.
Northern England and Wales are likely to be hit by flooding to homes and businesses, with people being warned of "damage to buildings", including broken tiles.
The strongest winds are expected to be in the south of England and up to eight inches of snow is expected to fall in Scotland.
The Met Office has also warned that "rail, air and ferry services may be affected", and that roads and bridges may need to be closed.
Coastal towns have been given "danger to life" warnings over large coastal waves throwing debris onto roads and houses.
People are also being warned of possible power outages.
Met Office presenter and meteorologist Alex Deakin said: "Across England and Wales on Sunday there will be damaging gusts of up to 60mph, maybe higher around coasts and hills.
"Heavy rain will be an extra hazard if you're driving and large waves will be an additional danger by the sea."
Trains passengers are urged to only travel on Sunday if their journey is "absolutely necessary."
Network Rail urged people living near rail lines to tie down or clear away garden furniture and trampolines.
Passengers travelling on Sunday and Monday morning are urged to check for updates before they travel.
They are warning that strong winds have the potential to damage overhead electric wires and tracks due to debris or trees falling onto the railway.
Reduced timetables and speed restrictions are in place across rail networks.
The London Winter Run 10k event - due to be attended by 25,000 runners - was also cancelled after organisers said they were "not able to guarantee the safety of our runners, crew and volunteers."
The Met Office has also updated its yellow alert for wind to an amber, warning of "very strong winds" in the South of England.
The rest of Britain has yellow warnings for winds from midday on Saturday as powerful gusts of 60mph hit most of the country.
Rain warnings are in place on Sunday for south and north Wales, Cumbria and Lancashire,  southern Scotland and Northern Ireland with up to 80mm of rain (3.1 inches) expected.
The average rainfall in South Wales for the whole of February is 85mm (3.3 inches).
Bad weather is due on carry on through Monday and Tuesday with blizzards conditions and up to eight inches of snow expected in Scotland.
Met Office forecaster Simon Partridge said: "It is going to be more significant than the other two storms we have seen this season.
"In terms of widespread effect, the last one it is on a par with was in 2013. Everybody will feel some effects from it."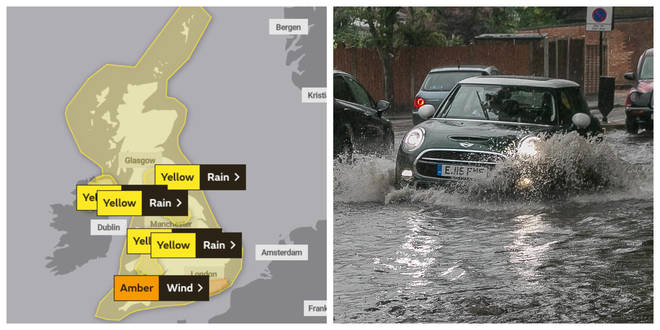 Drivers are also being warned to take care on the roads and be aware of "fallen trees and flooding".
Ben Sheridan, AA Patrol of the Year, advises: "Visibility is going to be really poor in areas taking the brunt of Storm Ciara so drivers need to stay vigilant.
"It's a really unpleasant combination and roads can quickly become blocked by fallen trees and flooding so give yourself plenty of extra time for your journeys and keep an eye on road closures and diversions before you set off.
He continued: "Make sure you always drive to the conditions – if you ignore warning signs there's a real risk of aquaplaning or causing serious damage to your car.
"You've got to leave twice as much space between you and the car in front to account for greater stopping distances. Even if the road looks clear, wind can blow vehicles and debris into your path so you need to stay alert.
"Driving conditions can quickly deteriorate during stormy weather, with drains becoming swamped and standing water causing problems such as surface spray, reduced visibility and potentially leading to flooding, so drivers will need to take
extra care and expect delays, even on motorways."