UK weather: North England hit with snow as 'danger to life' warning issued
15 December 2019, 13:05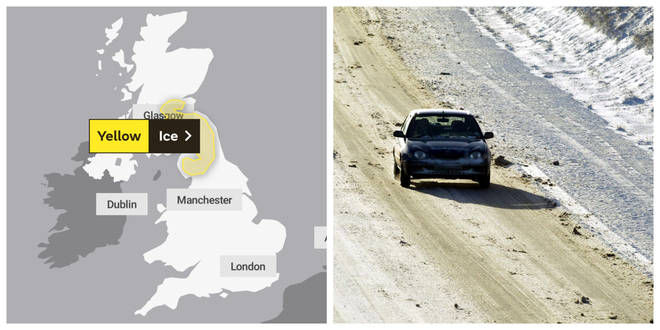 Parts of northern England have woken up to a blanket of snow, while south and west have been told to prepare for heavy downpours and sleet.
The Met Office issued yellow weather warnings for ice across Northern Ireland, northern England, west Scotland and northern Wales after temperatures plummeted and snow fell on Saturday night.
Met Office forecaster Matthew Box said: "Snow has fallen across western parts of Scotland and northern England overnight with showers causing sleet to develop in the South West.
"A windy day is forecast for the rest of the country with the South West and South Coast in for a particularly breezy day with wind gusts expected to peak at 50mph."
Motorists in the north of England have been warned to be careful on the roads by police after several cars became stranded overnight.
North Yorkshire Police said the A170 at Sutton Bank, Thirsk, was closed overnight and reported problems on the A59 Harrogate to Skipton road, in the Yorkshire Dales.
Police in Manchester and West Yorkshire warned of snowy conditions on the M62 at its highest point between Greater Manchester and West Yorkshire.
Looking forward to Monday, Mr Box said: "There will be good spells of sunshine across much of the UK.
"This dry spell will last until Monday afternoon when rain is forecast in the south, which should hit London in the early hours of Tuesday morning.
"We will see persistent rain overnight into Tuesday.
"Whether we see an unsettled windy and wet Christmas or a dry and perhaps sunny Christmas Day remains to be seen," he said.