Discover More About Pension Wise
Do you know your pension pot options?
Pension Wise is a free and impartial government service, to help you understand your options when it comes to accessing your pension pot.

Pension Wise is available to those aged 50 and over, with a defined contribution pension (sometimes known as a personal or workplace pension).

You can book a telephone or face-to-face appointment with one of our friendly team. Watch the video at the top of the page to find out more.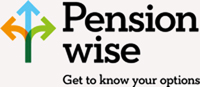 Pension Wise is the first place to go to start your planning for your retirement so visit the Pension Wise website at pensionwise.gov.uk or call 0800 138 1583 to book a free appointment.

Appointments with specially-trained Pension Wise guiders are tailored to your circumstances and outline the six options open to you. The guiders are friendly, knowledgeable and there to help you.

Appointments last for about 50 minutes and can be either face-to-face or over the phone, whichever suits you best. The face-to-face appointments take place in one of over 800 locations across the country, so you'll never have to travel too far to have one.

Pension Wise will never try to sell you any financial products - instead your guider will help you understand any tax, fees and charges when taking your pension.

Once you know your options, take your time to shop around for the best deal.
Be Pension Wise, make sure you're aware of pension scams.