Hundreds without power as 75mph storm hits Michigan
25 August 2023, 15:14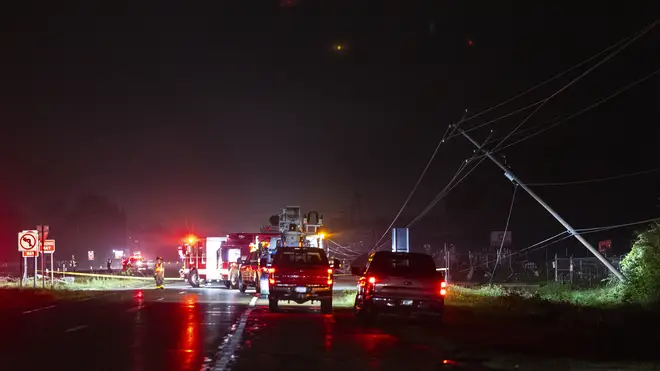 A woman and her two young children were reportedly killed amid rainfall.
A storm powered by winds of up to 75mph has downed trees, tore roofs off buildings and left hundreds of thousands of customers without power in the US state of Michigan.
The US National Weather Service said on Friday some of the damage may have been caused by two tornadoes.
A woman and two young children were killed in a two-vehicle crash during heavy rain on Thursday night, a spokesperson for the Kent County Sheriff's office said.
At least two other people were injured in the crash.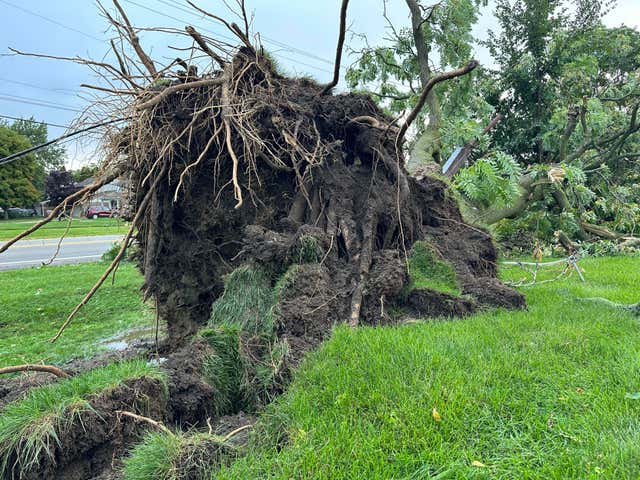 In Ingham County, where there was a report of a possible tornado, the sheriff's office said more than 25 vehicles along the Interstate 96 road were severely damaged, with one confirmed fatality and several people severely injured.
Trees were uprooted, and some roofs collapsed. Many roads were closed due to trees and power lines that had fallen.
The National Weather Service in Grand Rapids said officials would be in the field conducting damage surveys on two suspected tornadoes, in Kent and Ingham counties.
Part of the roof collapsed and shingles were ripped off an adult foster care facility near Williamston, in Ingham County.
More than 420,000 customers in Michigan and over 215,000 in Ohio were without power on Friday morning, according to the Poweroutage.us website.
The storm on Thursday night followed a round of heavy rain Wednesday that left areas in south-east Michigan with over 5in of rain by Thursday morning, resulting in street flooding in the Detroit area, including tunnels leading to Detroit Metropolitan Airport in the suburb of Romulus, officials said.
Officials reopened the airport's McNamara Terminal on Thursday afternoon. Severe storms developed in the western part of the state in the afternoon.
Michigan governor Gretchen Whitmer activated the State Emergency Operations Centre on Thursday evening to provide support to affected communities "as they respond to the impacts of flooding".
Parts of the western United States have been deluged in recent weeks with rain from Tropical Storm Hilary, and much of the central US was beaten down by deadly sweltering heat. In Hawaii and Washington, emergency crews battled catastrophic wildfires.
Scientists say that without extensive study they cannot directly link a single weather event to climate change, but that climate change is responsible for more intense and more frequent extreme events such as storms, droughts, floods and wildfires.
Climate change is largely caused by human activities that emit carbon dioxide, methane and other greenhouse gases into the atmosphere, according to the vast majority of peer-reviewed studies, science organisations and climate scientists.